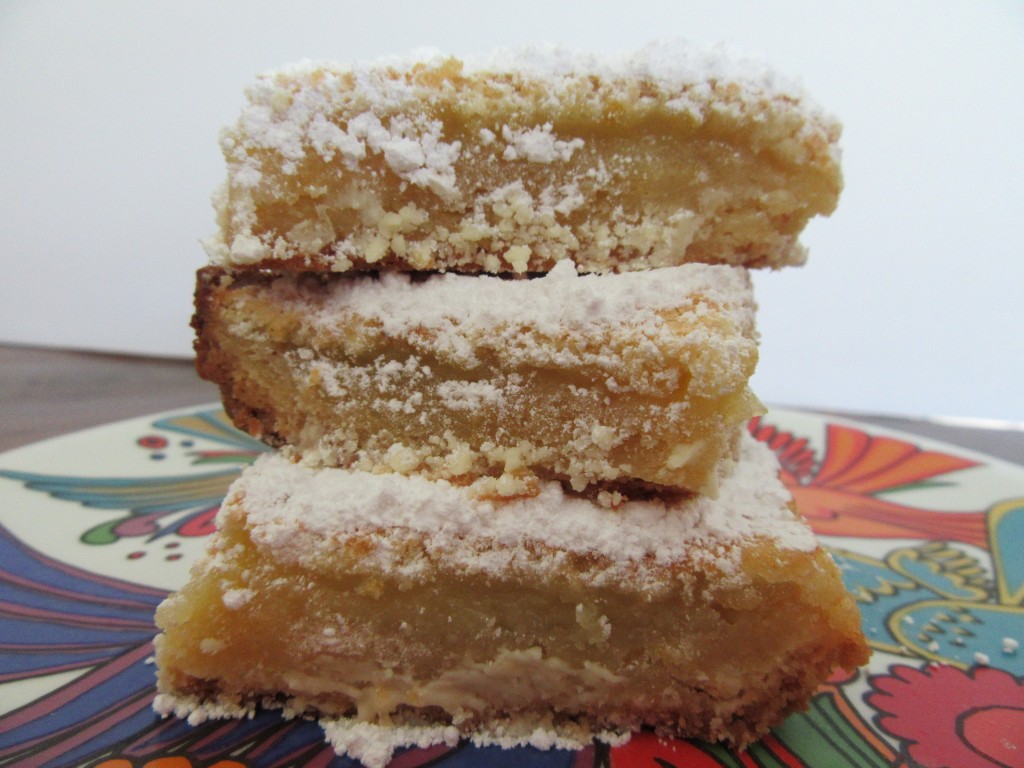 My grandmother (Grandmother – I'm not kidding, that's what we called her. I'm English, remember. English Texan. Let's have a spot of tea, y'all!) was the baker of the family. My mom was a great cook, but Grandmother was a wicked baker. Black Bottom Pie and Bird's Nest Cookies (with homemade dark chocolate ganache centers and edges rimmed with chopped pecans) were my absolute favorites. Oh my. But up towards the top of the list, too, were Lemon Squares. The tart powdery sugar combo made for a stupendous afternoon tea treat (I hope you noticed my accent there).
But since I don't live in England, my Lemon Squares are not relegated to being consumed between the hours of three and five. Heck, I ate two for lunch yesterday after a 15 mile run (and then felt sick by one o'clock and had to scarf down some leftover chicken salad), and then ate two more right before I went to bed. It's High Tea time all the time in this hacienda.
Unfortunately, my family clearly enjoys a Lemon Square, too, because when I came down this morning at four thirty to go out for my first run, the only trace of the cookies was a damning pile of powdered sugar on an empty plate. Clearly my family mistakenly believes that I make all these desserts for them to enjoy. As if.
Anyway, I hope you give this recipe a go and then send me some of your results so that I can "test" them for you. I just don't feel like four squares were enough for me to really know exactly where Lemon Squares fall on my list of favorite desserts. More research is needed.
Grandmother's Lemon Squares
Crust
1 stick unsalted butter (1/2 cup) (or salted, just skip the 1/2 tsp. salt later)
1/2 granulated sugar
1 cup AP flour
1/2 tsp. salt (if using unsalted butter)
Filling
2 large eggs
3/4 cup granulated sugar
1 tablespoon fresh lemon zest (I use 2 tablespoons because I like my squares lemony, but start with one and then taste your batter.)
3 tablespoons AP flour
1/3 cup fresh squeezed lemon juice
2/3 cup powdered sugar (for sprinkling on top)
Preheat oven to 350 degrees (if at altitude, 375)
Butter an 8 x 8 baking dish, cover with parchment paper (extra paper on the sides for easy removal) and then butter the parchment paper. Better to have pan-greasing overkill than stuck squares.
Cream together butter and sugar in a bowl until light yellow (about 5 minutes). I like to use my Kitchen Aid stand mixer here because you have to let it cream together for awhile and I don't want one arm to get bigger muscles than the other, but feel free to use a hand mixer if that's what you have or you can't get your Kitchen Aid out of the cabinet without some help (dang those things are heavy!).
Add flour and salt, beating on Low until a nice dough forms.
Transfer the dough to your greased/parchmented/greased pan and press the dough into a flat layer on the bottom.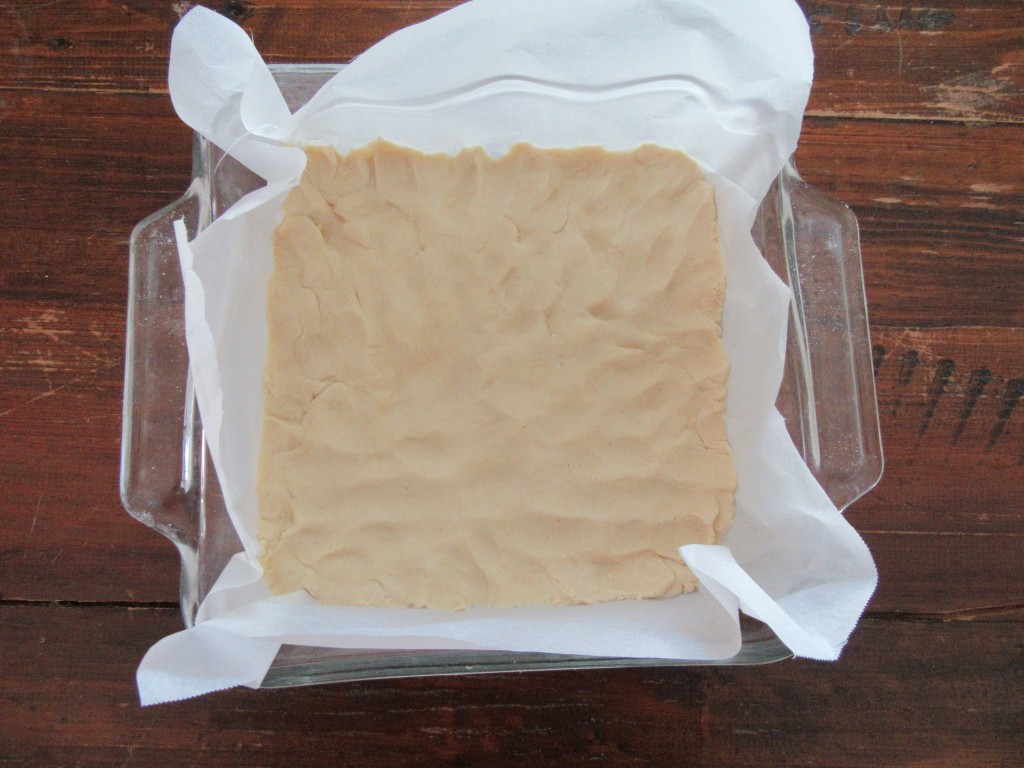 Bake for 15 minutes, turning the dough once halfway through the bake time. Check the crust. If the edges have not started to brown, bake for 3 more minutes and check again. Oven temperatures are tricky with this one and it can take up to 20 minutes to see the edges browning.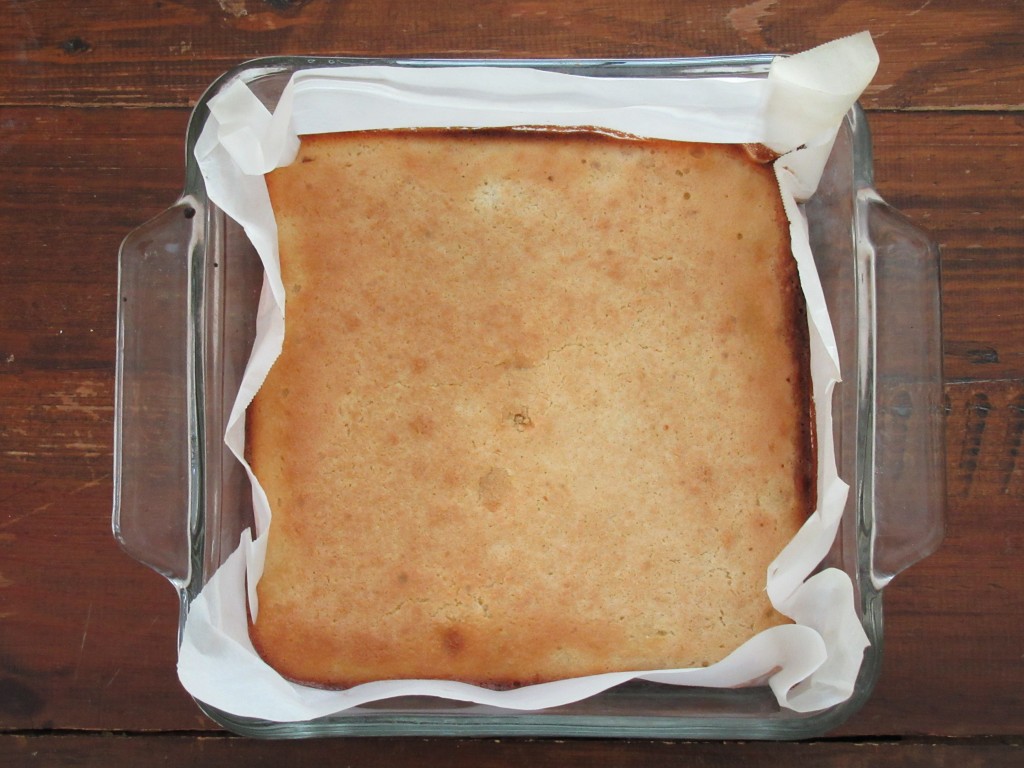 While the crust is in the oven, start your filling.
Whisk together the sugar and eggs until they have thickened a bit. Add the flour, lemon juice and zest. Mix well.
Pour the filling onto the hot crust when it comes out of the oven. Bake for another 20 minutes, or until the center no longer jiggles.
After the pan has cooled completely, sprinkle powdered sugar over the top and then cut into squares.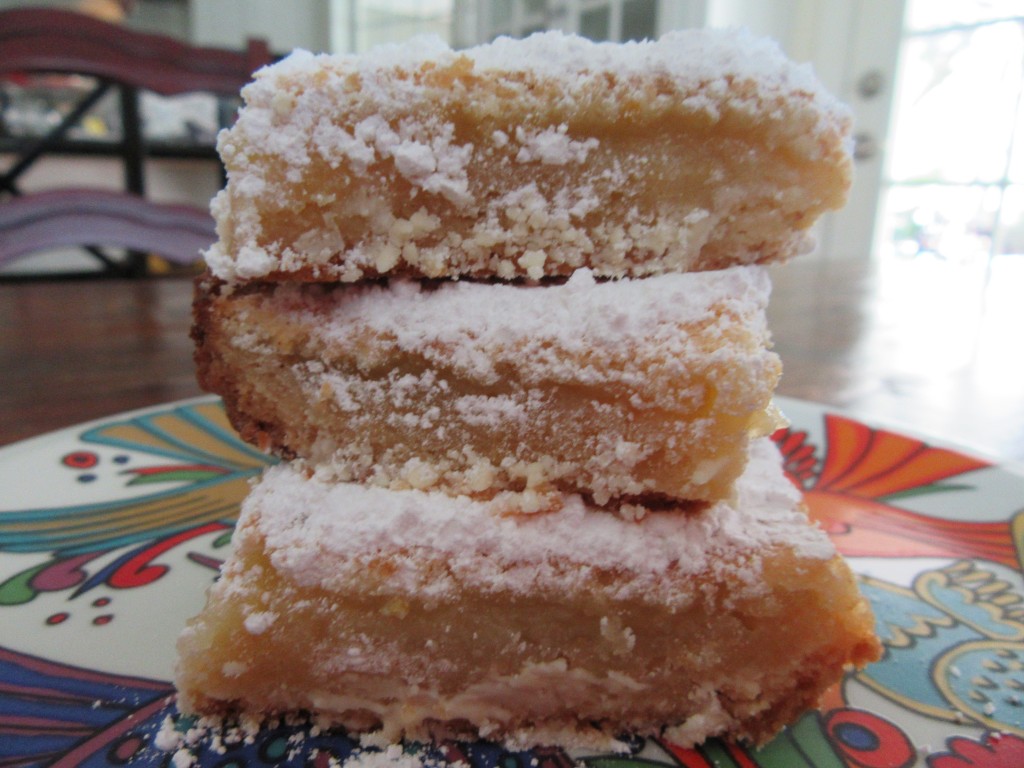 Hide from family.
*Go check out Joy the Baker's recipe for Bruleed Lemon Squares – she takes a torch to them! Seriously, that girl can bake! Everything on her site looks fantastic. I read her blog like a book when I am on the treadmill.