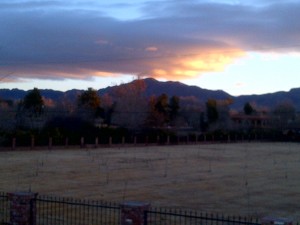 Sun rising over the mountains of El Paso – 12/31/2012
Oh, hello.
How is everyone? I did another holiday "unplug". I'm just finding it too complicated to travel back and forth from LA to Texas (and all the relatives' houses in between), to keep up with blogging without stabbing someone with a fork. So, consider your patience with my silence as instrumental in saving someone's life. See? You've already started the new year out as a hero.
But time to get back to it, don't you think? What have you been doing these past few weeks? Has anyone kept any of their New Year's resolutions?
Me? Not so much. Well, other than vowing not to stab anyone, I really didn't make any other resolutions. I knew I wouldn't keep them, so I decided not to torture myself (and those around me) any further. Besides, I don't think "Renew my subscription to People magazine" actually counts as a resolution.
But, I did do a few things that weren't completely slothful or self-indulgent (very few, but this blog isn't all that long). On New Year's Eve day, I went out and did an 8 hour speed walk. I know this sounds kind of lame to you runners, but it was hard.  I'm always giving myself "walk" breaks when I'm tired or bored with running, but I wanted to do a "long" workout, so I thought, "What's the big deal?'
Well, the big deal is that my butt hurt for 3 days! Yes, walking a lot will work your butt. Maybe not as much as say, stair climbing or that weird Suzanne Somers video, but WAY more than running. I've always known I have weak glutes and hamstrings from only running, but I never realized how weak until I did The Walk (which is what I'm calling it since it will never happen again). Sheesh! Clearly (not that I'm making a resolution) I need to get busy on my backside.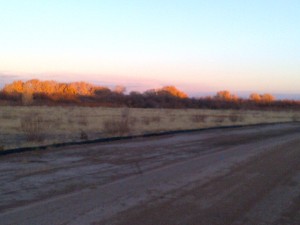 The levee of the Rio Grande River
I also did a lot of running on the River, one of my favorite places to run. It's like running on a road – flat, not too gravelly – but with no traffic. For nearly every run, a beautiful white crane kept me company, flying from tree to tree as we went. I think it was a sign, but I don't know of what. (If there are any psychics reading this blog, let me know). I named my "sign" Ned, and talked to him throughout my runs. He never answered back, even when I sang him my full rendition of "Daniel" by Elton John.
Anyway, it's back to reality. Back to LA. Back to obsessively checking the Ultrarunning calendar for fun races. Back to trying to con friends and strangers alike into going on "adventures" with me (hint hint). And if you agree to go with me, I promise not to sing.
Happy New Year of Running!
PS – I'm having a HUGE problem with spam (like 300 "comments" a day trying to sell me fake Gucci bags and designer Viagra), so please forgive me for missing some of your comments. The "legitimate" ones are getting lost in the deluge. I'm frantically trying to find a way to stop this, but so far, haven't come up with anything that is working.