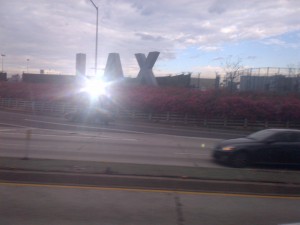 Back to Texas we go, leaving once again from LAX.  Since we spend a lot of time traveling to and from Texas, I spend a lot of time in airports, trains, buses and cars.  The majority of my travel time is spent getting to and from LAX, and then waiting at LAX for my flight.  The flight time is actually pretty short – 1:45 nonstop.  Today, rather than reading, I decided to look up all the plane crashes at LAX (Yes, I'm morbid.  Chalk it up to my years as a prosecutor.).  In addition to crashes, I managed to find a lot of other random information:
1.  Number of people who fly out of LAX per day – 234,000
2.  Number of airlines that fly out of LAX per day – 87 domestic and 69 international
3.  Number of laptops lost/stolen at LAX per day – 1200
4.  Distance of LAX from downtown – 16 miles
5.  Ranking in "busiest airport in the world" – 6th
6.  Busiest domestic route out of LAX – San Francisco
7.  Busiest international route out of LAX – London
8.  Al Qaeda attempted to bomb LAX –  New Year's Eve 1999/2000
9.  Alaska Air plummeted into the ocean en route to LAX in 2000
10.  3 of 4 planes used in 9/11 attacks were bound for LAX
11.  In 2002 two Israelis were gunned down at the El Al ticket counter.
12.  In the last 10 years there have been two "crashes" between planes on the runway – no one has been injured.
13.  LAX has been featured in over 22 movies – often masquerading as an airport in different locations.
14.  LAX has the only US Coast Guard located on the premises of an airport.
15.  Encounters restaurant, on LAX property, is 70 feet above the ground and serves as an observation deck as well as an eatery.
Tomorrow we resume our regularly scheduled running related posts!
Happy Running!