Despite my good intentions of running celibacy, I gave in yesterday and ran. I know. I'm a hypocrite. Please forgive me. And allow me to explain.
I had to go to Long Beach to pick up my kids after a camping trip on Catalina Island. They were due to arrive on the 1:00 ferry, so I decided it would be fun to go early and walk on the beach, and then do a little reading in the sun. But as I began my slow amble (I promise), the fog was so calming and pleasant. I'd spent the whole summer being blasted like an enchilada in an oven between the California heat wave and the normal Texas scorching, that the cool, billowy beach mist threw me. Simply, it muddled my brain and made me forget that I HATE RUNNING.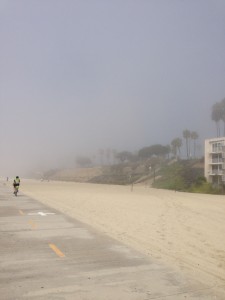 Without much thought, my slow perambulation turned into a jog. Then the jog turned into a run. And then the run…just stayed that way. I may have had a muddled brain, but I wasn't so disabled as to try any speed work.
Before I knew it, I had run for about an hour. Say what? I was all sweaty and icky – and gloriously happy. The slight bit of brain fog I'd been experiencing for the past month had lifted right along with the beach fog, and I couldn't remember exactly why I'd stop running in the first place.
Oh, that's right, because I HATE RUNNING.
Okay, obviously that's not true. But I do get tired of the unrelenting feeling that time is running out and that I MUST keep training or I will lose the little bit of talent I have. My inadvertent beach run reminded me that I started running for fun and because it feels so dang wonderful, moving and grooving outside, sweating like Nacho Libre.
But because I didn't want to go overboard, and ruin the crazy-good feeling, I used good judgment and resumed my walk. And then bought a Cherry Slush Puppy and put my feet in the ocean. Ahhhhhh…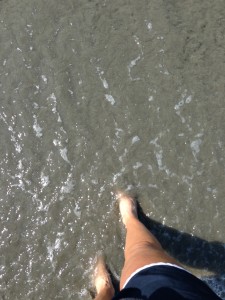 And then spent the next 6 hours trying to get all the sand out of my running shoes.
But it was all worth it.
Happy Running!
P.S. Thank y'all so much for the nice messages and comments you sent welcoming me back. Even though I didn't miss running during my break, I sure missed all of you!