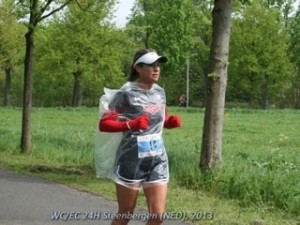 (For awhile my posts are going to look weirder than usual. My laptop was "removed" in London, but hope springs eternal (or at least until next week) that it will turn up in Lost and Found. In the meantime, I'm posting on my iPad which is next to impossible for the technically challenged like me.)
Part I
You all knew it was going to rain and hail, didn't you? As Hubz keeps pointing out, bad weather is a given if I'm entered in a race. Just one more reason I probably won't get invited back on the team next year.
So, yes it rained for about 80 percent of the race. No, our uniform didn't involve a "cold weather" option which is why I spent a big portion of the race running around in a big plastic bag. Our only other rain option was a thick raincoat that I was convinced would be way too heavy to run in. Right up until I decided I was teetering on the verge of hypothermia and then it seemed like the best piece of running gear. Ever. Well, except maybe for waterproof gloves. And a hat. And a warm fireplace with a cup of hot chocolate.
The day started with much excitement. Worlds usually doesn't begin until noon, so we have plenty of time to get geared (and worked) up for the event. By the time we reached the course, I felt like I was about to come out of my skin. The four cappucinos I had probably didn't help much, either. But this was good excitement and not the dread I had experienced in so many of my recent races. I wanted to run. And I wanted to run far.
I've read several race reports that talk about how fast the runners went out. I will just tell you that I was oblivious to this, as I never go out fast and have no idea what anyone at the front is doing. In fact, whenever I am close to the front I panic because I know it means that I am being stupid. No way was I going to be stupid at the World Championships – I had a score to settle after Poland. So I ran steady and efficiently and focused on not falling down (which was a real possibility again because the course was about 50 percent cobblestone/brick).
All was going well, albeit damply, through the first 12 hours. I was hitting my mileage goals. I felt good – relaxed, happy, in control. But as the night wore on, I got wetter and wetter and colder and colder. Then I started puking. At first, this didn't concern me. I always puke, right? But when I couldn't seem to stop puking, and it became down-on-all-fours-behind-our-tent kind of puking, I started getting a little worried. What the heck was going on? I tried changing my clothes, but everything in my bag, in all our bags, was wet. There was no real way to get warm except keep moving. And I had to keep stopping to puke. The more I stopped, the slower I went, the colder I got, the slower I went. And on an on. For hours.
Eventually, I had to give up my goal of 135 miles and just focus on staying on the course for the full 24 hours. Sabrina Little, Suzanna Bon and Traci Falbo were tearing up the course for the women, and Jon Olsen, John Dennis and Joe Fejes were killing it for the men. There was no way I was going to miss witnessing their spectacular racing first hand.
I still don't know what my final mileage was because I don't really want to know. When you walk for the last 5 hours of a race, your mileage becomes irrelevant and you have to take comfort in the fact that you didn't quit. Or freeze to death. Or go mad with the absolute mind-numbing inaness of the horrible music you chose for your iPod because you thought you'd be RUNNING and Katy Perry seemed like a good idea but is a HORRIBLE idea when you are death-marching in a hail storm in Holland dressed in a plastic laundry bag!
But the story ends well because the US Women AND Men won GOLD!! I cannot adequately convey the level of talent and flat-out toughness I witnessed. Jon Olsen got Gold and John Dennis, Silver. Sabrina Little set a new American Record with 152+ miles (yes, at age 26!) while leading the Women with a Silver Medal. Suzanna Bon snagged the Bronze and Traci Falbo (in her second 24 Hour race EVER) got fourth. Simply amazing! I was so proud to just be on the same course with my teammates, watching everyone race with all their hearts, doing everything they could to leave it all out there.
And that's why even when it sucks, and you are convinced nothing will ever be as hard as that, it is all totally worth it.
Happy Running!
(Tomorrow: Traveling Before and After: Why I Shouldn't Be Let Out of the Country)