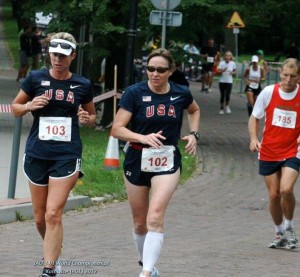 Running with Debbie
Don't worry, the castle photos are coming – you aren't getting away that easily.
We finally made it back last night at 9:45 p.m. after 27 hours of traveling. We are all beat, but it has been so frustrating not being able to post, tweet, or answer e-mails, that I felt compelled to drag my butt out of bed to get something posted. I will add more tomorrow after I've recovered a bit. I don't want this to read like a bad episode of One Life to Live – and I'm too tired to compose anything rational.
In a nutshell: The course had a turn that was made of wobbly cobblestone. At about hour 4, I hit one of the stones and wrenched my knee – nothing serious, but I did it in such a way that it sent an excruciating pain straight up through my body. I took a few more steps and became lightheaded, so I went to the curb and sat down. Next thing I knew, I was flat on my back with a bunch of strangers over me and an ambulance parked next to me. Long story short, our team doc (the fabulous Dr. Mike Connor) thinks I just fainted. I'm guessing it was just one of those weird responses to pain, stress and adrenaline all at once. It has never happened before, and other than a very low pulse at the time, I had no real lingering symptoms afterwards. But, and the big "but" in this case, was that I had to sit out for an hour – and at the World Championships, that is the kiss of death. I tried to walk for awhile, but it was clear my race was over the minute I hit the pavement.
So, there it is. I can't tell you how disappointed I am. I know it's only a race, but it meant so much to me, and I feel so depressed that it ended the way it did. But, all that said, there are so many things that were positive, I know my self pity will subside after a few days (and a few cupcakes).
Some of the COOLEST things ever happened at this race:
Connie Gardner set the women's American Record. Connie taught me how to race 24 Hour events when I first started competing. She is one of my heroes, so to watch her have such an incredible performance was simply amazing. She has tried for this record for years, never gave up or lost focus, and did it in one of the most challenging environments I've ever seen.
Mike Morton set the men's American Record. I have never seen someone race with such calm determination as Mike. I think he has to be the most talented runner I have ever seen. It was awesome to watch him, lap after lap, run at such a high level and never come undone. He basically looked the same at hour 23 as he did at hour 3 – something I have never seen in 24 Hour racing.
Anne Lundblad and Suzanna Bon both ran over 140 miles. These women are rock stars, plain and simple. I can't tell you how inspired I was watching them. I have never been a spectator at a 24 Hour event, so to be able to watch these women compete – and at such a high level – was a fascinating experience.
Lana Haugberg competed in her first (but not last) World Championships, and performed like a true pro. At only 25, Lana was the youngest member of the team, yet competed like a pro. Despite some difficulties at the end, she kept it together, and finished with over 129 miles. This girl is tough – and someone to watch. She has talent and mental toughness.
I got to run with Debbie Horn. Despite my dismal race, I did get to run with my buddy for about an hour. I adore Debbie, so it was great to share a third Worlds with her. And if I was only going to be on the course for 4 hours, I was glad a fourth of it was spent running with her.
I met so many amazing people. We had a truly phenomenal team this year – incredibly talented and nice people. I really enjoyed spending so much time with all the men and women – and their fantastic crews. I also met so many fantastic runners from other countries (Yay! Ireland, New Zealand, and Norway!). The people involved in this race made the whole experience worth it.
And finally, the US Women took Gold!! I am so proud of them, I can't explain. We have never taken Gold in the 24 Hour event. I wish I had contributed more, but was honored just to share the course for awhile, and then be able to cheer them on while each of them ran such phenomenal races.
I will post more soon (hopefully tomorrow), but wanted to share the high (and low) lights with you now. I can't wait to catch up on all the blogs I missed!
Happy Running!