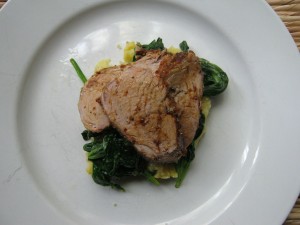 Apricot Glazed Pork Tender with Wilted Spinach and Yukon Gold Mash
(meal missed from 1975 to 1983)
I've missed a lot of meals. I know you find that hard to believe considering how often I talk about food on this blog: eating it, cooking it, pining for it. But growing up as a competitive swimmer meant that I was rarely home at meal times. Morning weight sessions required leaving the house at 5:30 for the drive across town. Breakfast was eaten grumpily and apathetically, with tantrums not being uncommon, probably contributing to my ambivalence about that meal to this day. I mean, really, there are only so many yummy and quick foods you can shovel down every morning that won't stick in your adolescent braces, or make you sick while you are training.
But more than screwing up my breakfast palate, all my years spent in the water, instead of at the table, have made me a dinner freak. Or as my kids like to call me, the Dinner Nazi. I insist on Family Dinner every night.
Growing up, my mother made things like Rosemary Beef Tender, Braised Pot Roast with Roma tomatoes and Vidalia onions, and  beef enchiladas with a tomatillo sauce served with frijoles that had been simmering on the stove all day. There was always an apple pie or pineapple upside down cake on the counter.
And I hardly ever got to eat any of it because I was never home.
With evening practice lasting from 5 to 8 Monday through Friday, I was only home for dinner on Saturdays and Sundays. My parents usually went out on Saturday nights, so that only left Sunday night for Family Dinner. And it was my favorite night of the week. We'd sit around eating some of Mom's homemade meatloaf with mashed potatoes, laughing until milk spewed from our noses, basking in the energy (more commonly termed "bullying") of a big family. Or we'd go to my grandparents house where I got to try homemade Au Gratin Potatoes and Yorkshire pudding with Standing Rib Roast for the first time, recipes I still make for my kids today.
Whether they want them or not.
You see, all those missed meals are now being forced upon my kids. All work, running, and incidentals must be done by 5:00 every evening so I can start dinner. You can often find me frantically running on the treadmill at 4:50, trying to squeeze in my last bit of mileage before it is quitting time. For most people, 5:00 signals the Cocktail Hour. For me, it is the Magic Hour, and it is time to play. Time to experiment with recipes I wished I'd gotten to eat more of as a kid, recipes I dream about while I run, recipes my brothers and sister were eating while I was swimming lap after lap, night after night (and don't think I don't remind them of this on a regular basis). Family Dinner is my chance for a re-do.
But for my poor kids, it is a sometimes unwelcome journey down memory lane. They never know what's coming. Each evening, I hear them enter the house cautiously, wary of what might be brewing in one of the 4 pots on the stove. I can see their brains taking in the scene wondering:
Will we be forced to eat another recipe that involves raw meat, or worse, an ingredient from 1975?
Did people really used to eat Creamed Tuna on Toast?
Is something on fire?
Is that stew, or is Mom washing our running shoes?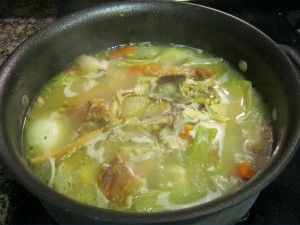 The makings of homemade chicken stock last night, not boiling running shoes. Sorry for the scare, boys.
I'd like to think our Family Dinners will leave lasting memories of love and nurturing in my sons' minds for the rest of their lives, but it's probably more likely they will only remember how many dishes they had to wash after I recreated one more Family Dinner I had missed.
I just hope they don't end up serving their kids McDonald's every night trying to make up for all the "good food" they missed.
Happy Running!