Because I'm nothing if not obsessive, I spent the week/weekend making more flour food – cookies and pizza. Stop looking at me like that. I needed flour, remember. I also had a 150 mile week (although, to be honest, none of those miles were pretty – think Mr. Magoo on a treadmill), so I was in a serious carb funk.
Anyway, because a person can only stash so many loaves of bread in her freezer without ending up on a reality show, I switched gears and turned my flour into sugar cookies. Boogidy boogidy boo! I've noticed that people are either a sugar cookie type or a chocolate chip type. I am definitely Camp Sugar Cookie. Now, don't get me wrong, I would never turn up my nose at ANY cookies (snarf, snarf), but I love sugar cookies so much that I was tempted to lick all of this batch just so that no one else could have any. I didn't, I didn't. Okay, maybe one or two.
This recipe is super quick and easy which makes it very simple to feed your sugar cookie addiction (I'm not throwing shade, I just totally get you). If you want to be all perfect-ish about it, though, you should let the dough sit in the fridge for at least an hour because it makes it easier to roll/cut or roll/slice if it's cold. But nobody's watching you, so if you want to just splonk them onto a cookie sheet and bake them off right away, you are the master of your own destiny. Heck, I ate half of my batch raw and I feel no remorse whatsoever. Be free, my fellow sugar cookie campers.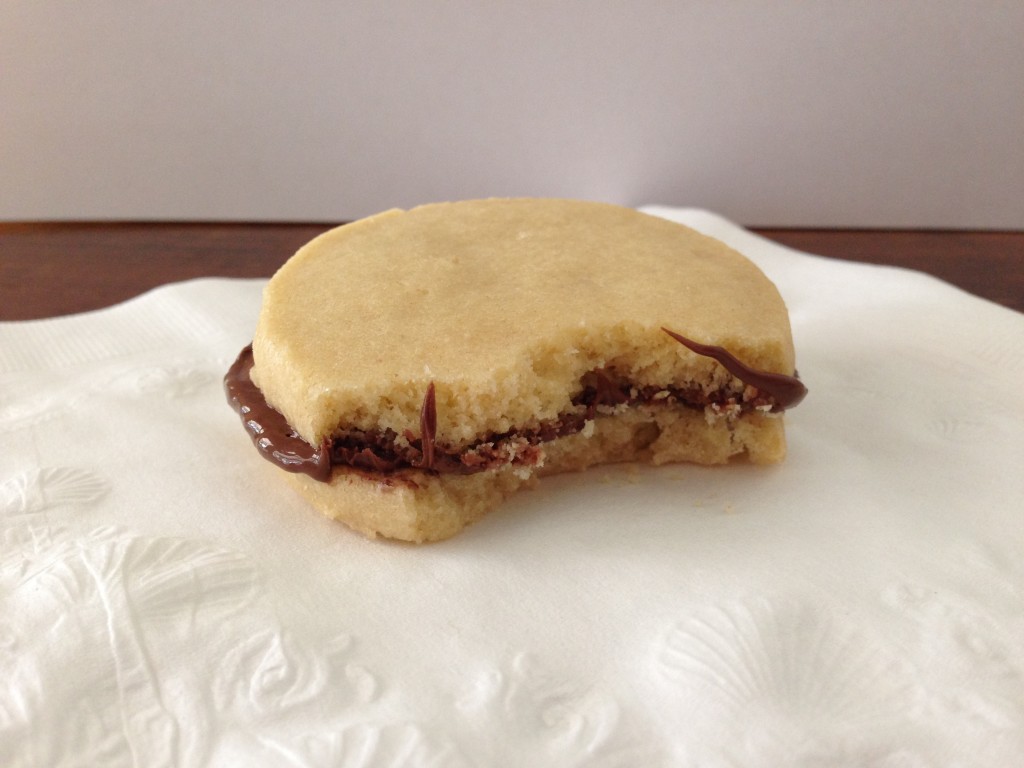 See here, I added some Nutella. THIS is why sugar cookies are the best – you can make chocolate/hazelnut sandwiches.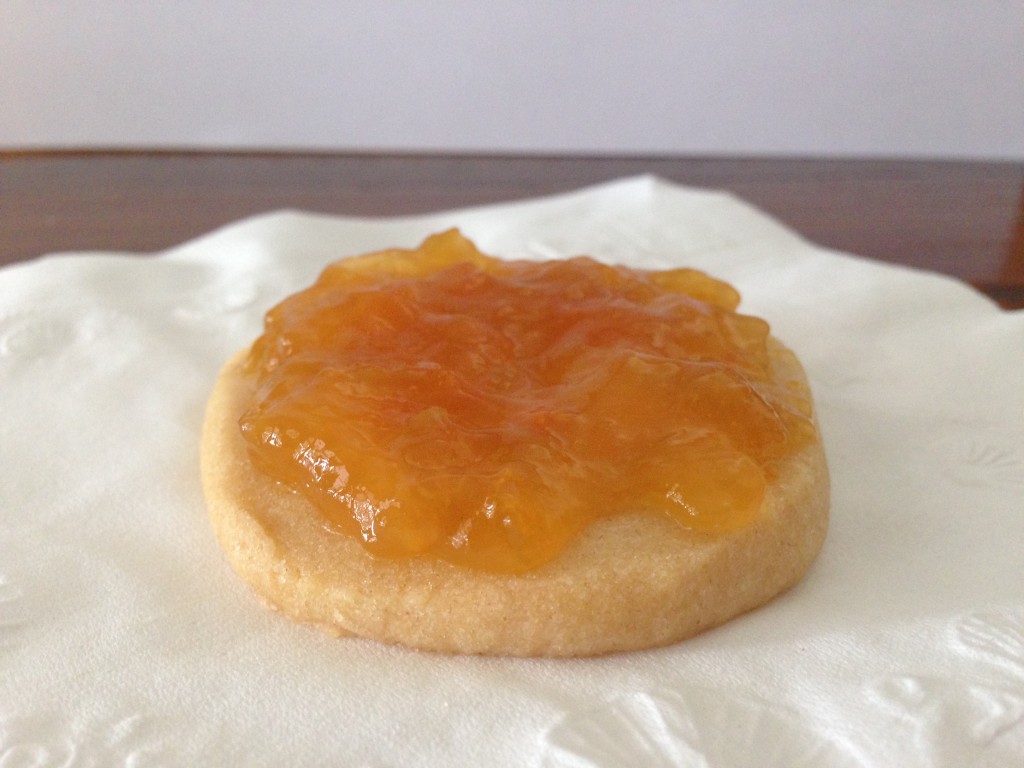 Or you can top it with jam. How about you just eat it both ways? You deserve it.
Now, after you eat bake a couple of batches of cookies and you feel the need to have something savory, pull out some more flour and make some pizza dough. Come on, let's do it together. It is a bog roll breeze! I promise! You don't even have to let the yeast proof like you did with the bread. Just mix your little packet of active dry yeast (It's Alive!) right into your flour mixture and add the wet stuff. Mix it up. Knead it a bit. Let it rise. And then it's time to get your throw-some-dough on (Okay, I tried that and ended up with a big blob on the floor, so I just streeeeeetched mine into a sort of round shape.). Do whatever your skill level allows.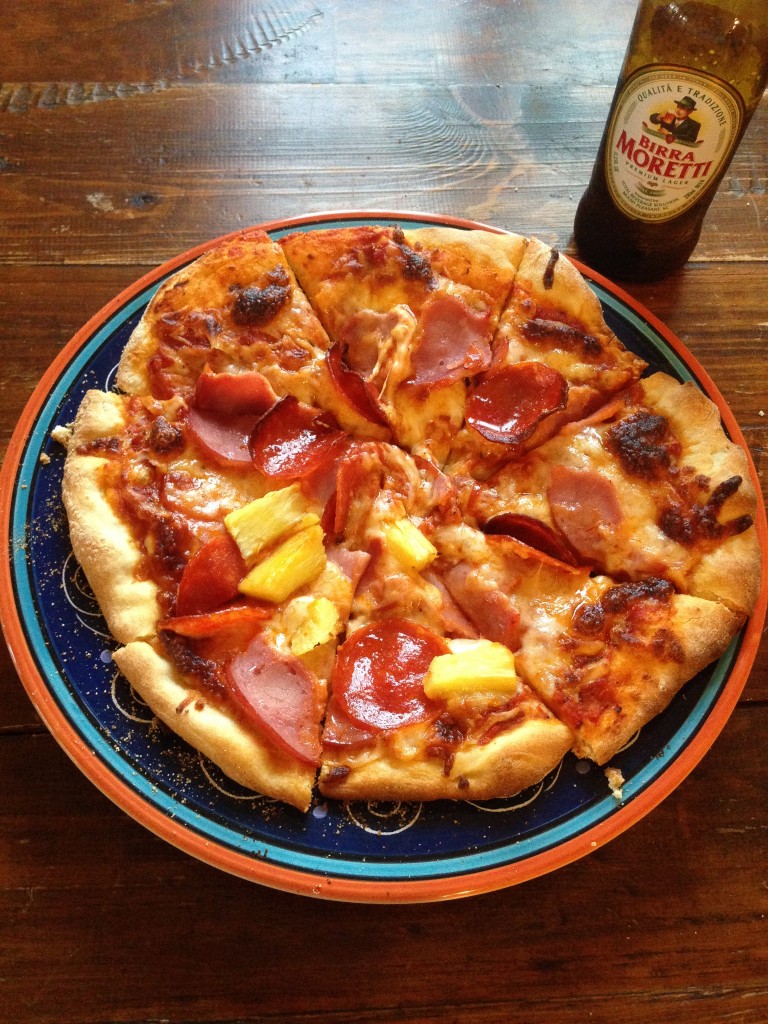 And then add a beer. Didn't I say you deserve it?
Sugar Cookies (adapted from Alton Brown)
3 cups AP flour
3/4 teaspoon baking powder
1/4 teaspoon salt
1 cup good unsalted butter (I like Kerrygold) softened
1 cup sugar
1 egg, beaten
1 tablespoon milk
Wisk the flour, baking powder and salt together in a medium bowl.
In a large bowl, mix the butter, and sugar until it is very light in color. You can use a stand or hand mixer – or if you need an upper body workout, a whisk. Work it! Then add the egg and milk and beat until incorporated.
While continuing to mix on low (or with less muscle power), slowly add the dry ingredients in 1/3 batches. Mix until the dough pulls away from the side of the bowl. If you want to slice and bake like I did, divide the dough in half and form into two logs. Wrap each log tightly in plastic wrap. Refrigerate for at least an hour.
After dough has chilled, preheat oven to 375 degrees. Line a baking sheet with parchment paper.
Unwrap dough and slice 1/4 inch slices. Place on baking sheet. These cookies can be placed fairly close together because THEY DO NOT SPREAD – think shortbread.
Bake for 7-9 minutes, until just beginning to turn brown around the edges.
Cookies are very solid and great with a good swath of icing, jam, Nutella or even ice cream. Really, I think they would be good with Play-Dough in the middle. Think Christmas in August.
Pizza Dough
3 cups bread flour (makes the crust super crispy)
3/4 cup AP or whole wheat flour
1 packet active dry yeast
3/4 teaspoon salt
3/4 sugar
1 1/2 cup warm water
extra virgin olive oil for the bowl
cornmeal for the baking pan
In a large a large bowl, whisk together the flours, yeast, salt and sugar. Add warm water. Mix all the ingredients together with a wooden spoon. After everything is incorporated, use your hands to gently knead it – about 2 minutes. Form a ball. Put a little olive oil in the bottom of the bowl and roll the ball around in it to make sure it is covered.
Cover the bowl tightly with plastic wrap and then a kitchen towel. Set aside to rise at room temperature for about an hour.
Preheat oven to 475 degrees.
After the dough has doubled in size, cut it into fourths. Spread a little cornmeal onto a cookie sheet to keep the dough from sticking.
Working with one fourth at a time, stretch the dough into a circle on the cookie sheet, making it as thin as possible without tearing it. (If you are a superhero – Batman, Wonderwoman, The Green Lantern – then try to toss the dough. Report back.)
Add your favorite sauce and ingredients and bake for 12 minutes, or until crispy and edges are brown.
*If you have a pizza stone, you can "shovel" the pizza from the cookie sheet to the hot stone. Just be careful to not burn yourself like a big dope. Not that I would know, or anything. I've just heard.