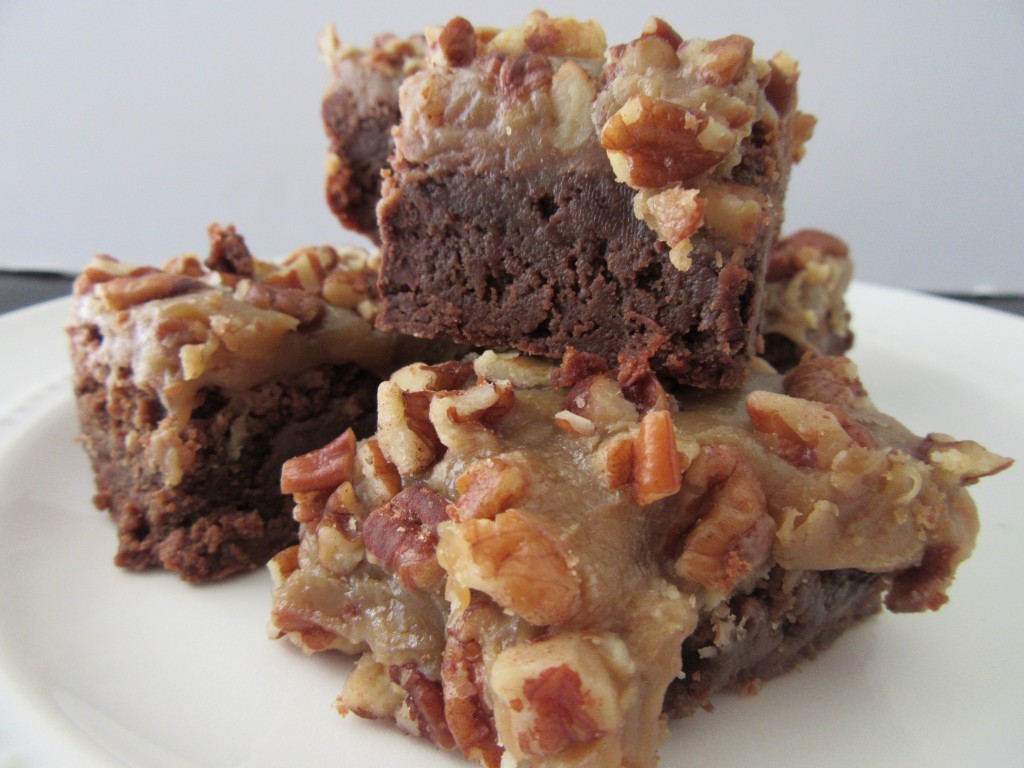 How do you feel about brownies? I'm kind of meh about them. I like them fine, but when the world is full of sweets that have me obsessing about them at two o'clock in the morning, a brownie just isn't ringing my bell. I'm not losing sleep over a brick of chocolate stranded between the lands of Cake and Cookie. I want a decisive treat, damnit!
But my mehness didn't keep me from making them. Like every three days. Because my family loves them, and I love my family.
Some days I added milk chocolate chips. Other days, peanut butter. There was the unfortunate Monday where I tried dried cherries only to discover that the cherries became mushy when baked and tasted like funky raisins. I don't have time for that.
And then one day, my son, Spencer, said, "These would be so good with your toffee."
Well, now.
Toffee is the first recipe my mom and I made up together. We started making it back when I thought dressing like Madonna was my best look, and that George Michael was my destiny (we know how both of those things worked out). My mom and I would spend the weeks leading up to Christmas baking anything and everything that sounded good to us.
"Oooooh! I love those Mexican Wedding Cookies. Let's make some of those. We'll just make them rounder so they look like snowballs."
"And how about cinnamon rolls shaped into Christmas Trees?"
"And sugar cookies. And fudge. And something with lots of rum!"
Okay, maybe the last creation never happened, but that doesn't mean it won't in the future.
Anyway, one year we decided to add toffee to the list. It took us a lot of experimenting to get the perfect chocolate-to-toffee-to-pecan ratio, and to get the candy part to set up just right, but it was worth it. I can still produce perfect candy without a thermometer because of all the "practice attempts" with that toffee. And I have about ten scars from candy burns on my hands to prove it.
Since that Christmas season many years (and pop stars) ago, I have made toffee for just about every family gathering, potluck, runner party, and hostess gift since. I guess you could call it my thang (Spencer said for me to never, ever type that again), so marrying the toffee with a brownie sounded like a perfect idea.
Except.
Toffee doesn't want to stick to the top of a brownie. It wants to be independent. It wants to be the star of its own show. So when you try to sneak in a brownie, what you end up with is: A brownie. And some toffee.
At first I was ticked. How could this be? Could I put the toffee inside the brownie? No. It would just melt and then you would just have mushy-inside brownies. Just what I wanted, a lamer version of a brownie.
I paced around my kitchen for awhile. (This is patently false. I actually went and got a massage, but the pacing sounded more Mad Scientistish. I like that, so let's go with it.) Then it hit me: If I just made the candy part more caramel-ish instead of a straight brittle, it would coat the top of the brownie and, Eureka! we'd have Toffee Brownies!
Of course, the whole thing needs to be finished off with a little coarse salt, just because. You know that, right? Of course you do! That's why we get along so well.
Yes, I totally get that it is not like I invented electricity, or even figured out how to get red wine out of a white shirt, but I run around in circles for 24 hours and I was a Liberal Arts major and I, more often than I care to admit, leave the house wearing two different colored shoes!! Sorry. Sometimes, you see, figuring out how to "fix" a recipe you aren't too keen on by adding something you love makes you feel like you look like Madonna, was chased by George Michael and rocked a matching pair of boots all on the same day.
Salted Toffee Brownies
4 oz. semi-sweet chocolate (use good chocolate)
1/2 cup (1 stick) unsalted butter, cut into pieces
1 cup brown sugar, packed
2 large eggs, room temperature
1 teaspoon pure vanilla
3/4 cup AP flour, plus 1 tablespoon for pan
1/2 teaspoon salt
1/4 teaspoon baking powder
1/3 cup semi-sweet chocolate chips
Preheat oven to 350 degrees. Butter and flour and 8 x 8 baking dish.
In a medium saucepan, gently melt butter and semi-sweet chocolate (not the chips). Stir to combine and smooth. Remove from heat and allow to cool.
While chocolate mixture is cooling, in a large bowl, sift together the flour, salt and baking powder. Set aside.
To the cooled chocolate mixture, add the brown sugar and vanilla. Stir until well combined.
Add the eggs, one at a time, mixing for a full minute between the eggs. Mix very well.
Slowly pour the chocolate/egg mixture into the dry ingredients, gently mixing until just combined. Do not overmix.
Add the chocolate chips and stir gently.
Pour batter into prepared pan and bake for 25 minutes. Brownies are done when a skewer/toothpick inserted in the center comes out clean.
Allow brownies to cool before preparing topping
Salted Toffee
1/2 cup unsalted butter
3/4 cup brown sugar, packed
1/2 cup heavy cream
1 teaspoon salt
1 teaspoon coarse salt for sprinkling at the end
1/2 cup chopped pecans
In a heavy saucepan, combine butter and brown sugar. Melt gently over medium high heat, stirring constantly. When mixture is melted, add heavy cream and 1 teaspoon of salt. Stir continuously for 5 minutes.
Immediately remove from heat and pour over cooled brownies. Sprinkle on pecans and finish with coarse salt.