Since my race report yesterday was soooooooooo long (and full of post-race delirium induced typos), I thought I'd spare you another novel.  So, here a just a few post-race observations, good and bad.
The Good:
1.  Snowballs make great recovery food.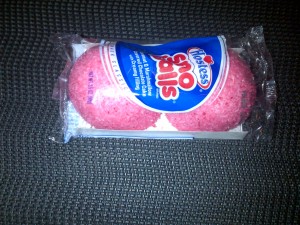 2.  A post-race massage is the BEST. THING. EVER.  Okay, after a post-race shower.  I only wish I had gotten one from a therapist who is also a runner, like Olga, so that I could have gotten my legs worked on more.
3.  If you don't kill yourself in a race, you can actually SLEEP afterwards – yay!  Normally, after races, I can't sleep for a few days.  Without redlining this time, I was able to sleep like a baby after the race – Heaven!
4.   Not only did I NOT lose a toenail, I didn't even lose any polish!  (I'd show you another picture, but I think y'all are getting tired of looking at my monkey feet).
5.  My "I will never run another ultra again as long as I live," mentality only lasted about 4 hours this time.  That is a record.  Usually, I swear I will never run another one for about a week.
The Bad:
1.  I forgot to put Glide on my thighs, and my legs are super chafed – I look like someone has been beating me with a whip.
2.  Every time I see the bag of PayDays in the cabinet, I want to hurl.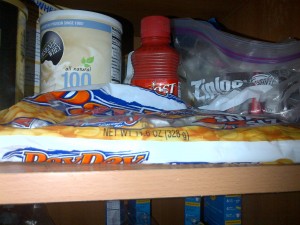 3.  My favorite trail shoes are trashed, and my sponsoring running store doesn't carry Montrails.  I have to order some pronto to get them before the WS training runs this weekend.
4.  My face is actually peeling from the stupid sunburn I got during the race.  I'm dreading being out in the sun for 3 long runs this weekend.  I have to figure out something to protect my face.
5.  I still haven't found anyone to follow on the way up to Auburn for the training runs.  It's a 6.5 hour drive, so I would really like some company.  I better get busy.
What have you learned post-race that has stuck with you?  Anything odd or funny?
Happy Running!