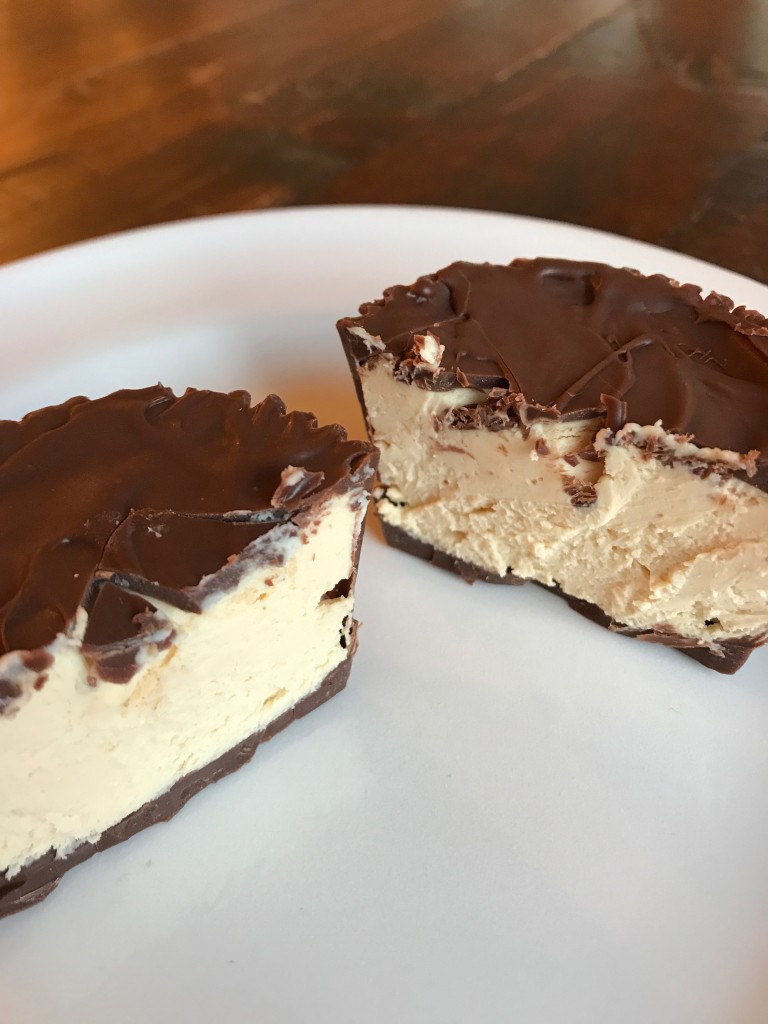 Living without sugar (and wine) has been the toughest part of keto for me. If you've followed this blog for any length of time, you know that I LOVE sugar. If I were smarter, I would figure out how to search my site to see just how many high carb/sugar-filled/dessert recipes are on here. I'm betting they make up the majority of my posts. Not kidding.
So, to quit sugar cold turkey was rough. Very rough. And for the first few weeks I avoided anything sweet like the plague, afraid someone would find me days later, under a bridge, clutching the remnants of an empty pack of Oreos and using a Dunkin' Doughnuts box as a hat. Sugar and I could not be trusted alone together.
But after making it through the holidays safely, I decided to explore the world of keto desserts. Some were meh, some were nasty, but some, thankfully, were as good as the "real" thing. I still couldn't help it, and found myself always tweaking a little bit, but that's what food is all about, right? Personal preference. You like tomato, I like potato. Or at least I used to like potatoes. UNTIL I COULDN'T EAT THEM ANYMORE! Agggghhhhhhhh!!!!
Sorry. Where were we?
Oh, yes. Keto desserts. I originally found this one on Hey Keto Mama. I've never been a huge cheesecake fan, but Sam drew me in with her fun, creative site and abundance of recipes. Her Keto Peanut Butter Cheesecake Bites looked like the (fat) bomb! Yum! But alas, I am not eating peanuts (or potatoes! Did I already mention that?), so peanut butter was a no-go.
I decided to try them with almond butter, but knew a few changes would have to be made. First, almond butter can be a bit grainy, which would be gross in a fluffy cheesecake. I searched out an uber smooth brand and found Barney Butter Bare Smooth – no sugar, no salt (I have no financial interest in this product, just wanted you to know what I used). If you swap out almond butter (or cashew butter, etc.), just know that you really have to find a brand that is smooth (also, your macros will be different). The second major change I made was to add salt. My almond butter was salt-free, but even if it wasn't, I would have still added a bit of salt. One of the best parts of a Reese's, to me, is the salty/sweet combo. Without the salt, I don't think I would have swooned. I was craving sweet, but I still needed the salty element to cut it.
Finally, and this is not an ingredient tweak, but a technical one, I think you need to coat your silpat/cupcake liners AT LEAST three times to get a nice, thick shell of chocolate around your cheesecake fluff. On my first try, I only did two coats and it was just too much cheesecake to chocolate. The second batch, I did three coats and it was better. Four coats, however, were the magic number. Alternatively, you could use a mini-muffin pan and simply have smaller bites – more chocolate, less fluff. It's all good. Because, well, chocolate. And cheesecake. And almond butter. Right?
Anyway, here is the recipe. Allow yourself an hour to make these just because the "freezing" time takes a few minutes each step. Also, don't be too hungry when you start these. During one of my experimental batches I ended up eating half the fluff straight from the food processor because it was sooooooooooo good. Don't do like me.
Chocolate Almond Butter Mini Cheesecakes
8 ounces full-fat cream cheese (one brick)
1/4 cup VERY smooth almond butter
1/4 cup powdered Swerve
1 teaspoon pure vanilla extract
1/2 teaspoon almond extract (optional, but good if you want a stronger almond flavor)
1/4 cup heavy whipping cream
pinch (1/2 tsp – 1 tsp, depending on preference) fine sea salt
3/4 cup sugar free chocolate (I used Lily's milk chocolate and dark chocolate, and they were both good – 1.5 bars).
2 tsp. coconut oil – refined if you don't want the coconut taste
Cupcake pan with foil cupcake liners or Silpat cupcake pan.
In a food processor, blend the cream cheese and almond butter until smooth. Add the Swerve, vanilla, almond extract (if using), heavy whipping cream and salt. Blend. Taste. Add more salt, if necessary. Blend until light and fluffy. Set aside.
Melt the chocolate and coconut oil in the microwave, in 30 second increments, stirring between each. This can, alternatively, be done on the stove with a double-boiler.
After chocolate is fully melted and smooth, coat each of the cupcake liners in the pan. Freeze for 5 minutes. Coat the liners again. Freeze for 5 more minutes. Repeat process AT LEAST 3 times (more if you want a thicker outer shell), freezing for 5 minutes between each coat.
Fill each cup with almond butter fluff and freeze for 10 minutes.
Finally, spread chocolate on the top and freeze for 20 minutes.
Serve frozen or from the refrigerator.