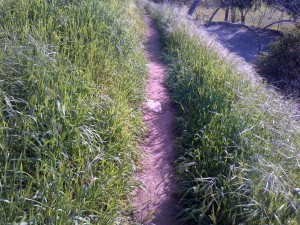 (This post was written on Friday as a "Happy Valentine's Day" entry, but we had internet problems and I wasn't able to post it. So, since it is President's Day today, consider this a "Happy President's Day" Post 🙂 )
Since my true love is hundreds of miles away, Valentine's Day wasn't exactly a day of amore. At least not the kind of amore that involves wine, chocolate and lobster tail. No, this Valentine's day involved trails, roads, coffee, and yes, some chocolate. So, all in all, not half bad.
My day started at 5:30 with a big mug (red, of course) of coffee. Really, is there anything more delicious than that first cup, drunk in bed? I think not. After getting my caffeine fix, I donned my hot pink fleece over black tights for a quick 8 mile road run. As I passed by the neighborhood elementary school, I saw that my outfit coordinated nicely with those of the pig-tailed girls on the playground. If only I wasn't too old and stiff to join them for a game of jump rope. Alas, I thought having to call an ambulance for the middle-aged woman who face-planted on the black top during a round of Double Dutch might be a Valentine's Day buzz killer for 8 year olds, so I ran on.
Once my run was done, I made chocolate covered strawberries for my teen sons. And, despite several, "Oh Mom! We're not babies anymore," protestations, they managed to force themselves to eat the whole batch. I got one. ONE. Sheesh. No jump rope and one chocolate covered strawberry. I was going to have to do better.
So after working the rest of the morning, I gave myself the best Valentine's Day present EVER. I took a nap. And not just any nap. A TWO HOUR napstravaganza! (Yes, you can turn green with envy now.) When I woke up, I was completely disoriented. It was light outside, I was in my bed, but I had no idea where exactly I was – Texas? California? Mars? Then I remembered: I had napped! Woo hoo!
Such a nap can only be topped off one way: with a trail run. So, after working a couple more hours, I hit the trails for a 12 mile run, singing Waterloo, Love Lockdown, and  Come and Get Your Love to every Blue Jay, cottontail, and lizard I saw. They all seemed thrilled with their serenade, even if they didn't express it outright. (Or in most cases, sprinted away like they were on fire).
After I got home, I was starving. I. Needed. Steak. Thankfully, teen boys are always happy to have steak, so they were only too happy to sit and chat with me while I cooked Ribeyes, mashed potatoes and wilted spinach. Yum! And then they did the dishes – double yum!
After watching a bit of Gone With the Wind, I left the kids to ponder the virtues of a loving a Scarlett versus a Melanie. At 16 years old, the Scarletts of the world are definitely winning their hearts. But no worries, I was way too tired to give one of my scintillating life lectures (lucky them), so it was off to bed at 9:00.
Now, the only way this day could have been better is if I had someone to share it with. But sometimes, having a day to do exactly what you want is a great gift, too! If you can't be with the one you love, love the trail you're on :).