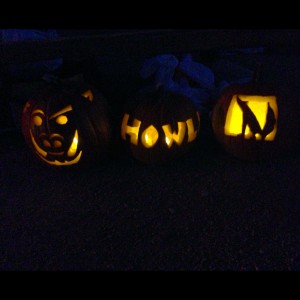 Photo Courtesy of Jack Rosenfeld Carvings by Jack Rosenfeld and Kate Martini Freeman  
See, I'm already lying to you. This isn't really going to be a race report like the title says. More like rambling race thoughts.
1.  I didn't even come CLOSE to reaching my goals. If you read last week's post, I cockily laid out some goals for you: No screaming; No puking; No crying; Make a friend. I only reached one goal.
a.  I screamed on the first loop. Yes, 6 miles in, and goal number one was shot to hell. I thought there was a snake on the trail, so I screamed like a little girl. This scared the poor guy behind me, so then he screamed like a little girl. We both got a good laugh out of it, and then he avoided me for the next 15 hours.
b.  I puked  – a lot. Okay, in my defense, the first time I puked, I kind of "made" myself. No finger down the throat or anything, but I'd been stemming the tide for hours, and I finally just had to barf. Unfortunately for my pacer, and the aid station volunteers, I chose to do this at an aid station. In hindsight, probably not the coolest move. I hope I didn't start a chain reaction, as we all know barfing is contagious. After this upchuck session, I managed to keep it together until I stopped, and then I barfed at our "camp", while waiting in line for the shuttle, in the parking lot outside our car, and at the hotel. Goal #2 was definitely not met.
c.  I cried like a baby. Before I actually started crying, I did a lot of whining. I felt fantastic for a long time (up to Mile 55), and then felt bad for a long time (up to Mile 78 when I quit), and I pretty much whined through those last 25 miles. At Mile 75 when I was trying to drop the first time, I started to really cry. I had a super bad stomach ache AND felt nauseous (which seems unfair), and I sat there and bawled in front of Hubz, and my friend Jack, to be heretofore known as Saint Jack. Both kneeled in front of me, unafraid of the potential for Exorcist-like vomiting, comforted me, and then gently nudged me back out for another try. When they told me I was in 3rd place, I cried harder, knowing that I had to at least try to keep it together when all I wanted to do was lie down in the dirt and howl at the moon (which I would do a little later).
d. I made a friend. Since I actually made 5 friends, this is a goal I definitely kept, so I want you to completely ignore that I failed miserably on the other three.
2.  I had the BEST pacers ever.  Kate Martini Freeman and Rachel James were fantastic! Kate paced me for loop 5 (Miles 60 – 75) and has definitely earned her angel wings. As I mentioned above, loop 5 was a train wreck for me. During the first 4 loops, the temperatures reached 90 degrees. Oddly, I seemed to do fine in the heat. But, when the sun started to go down around Mile 55, the stomach problems started. By the time I picked Kate up at Mile 60, my pity party had begun, and she was the only invited guest – lucky gal! She saw me through puking, whining, cussing, and just general negativity, all the while convincing me I wasn't going to die. Kate was simply wonderful!
Rachel waited for almost 4 hours to pace me, and then when I finally showed up, I tried to quit. After a little prodding from my "crew", Rachel and I headed back out. But our forward motion was slow and painful. I was so nauseous that we had to stop every few feet. Rachel had the patience of a saint, and never once asked, "Uh, are we going to run any time soon?" I only made it a mile and a half out before I knew it was time to call it a day. Without a single word about wasting her entire night, Rachel and I headed back to the Finish. I ended up with 78 miles total.
3. Aravaipa Running is truly the best race company I've ever seen. This is my fourth race experience with this company (twice racing, twice crewing/pacing), and I'm just astounded at how well they run their events. They seem to think of everything a runner may need, but they still retain that "funky" ultrarunning vibe I love. They could teach classes on how to direct races, they are that good.
4. I only got lost once (which is a miracle for me). But embarrassingly, it was leaving the main aid station. I went out for my fifth loop going the wrong direction. My pacer, Kate, and Saint Jack, had to come get me.
5. I have a few lingering issues. While I feel really good physically for the most part, I do have a few lingering issues:
a. Bad chafing. I put a ton of glide on, but my back looks like someone whipped me.
b. I had some sort of weird asthma attack during the race, and have spent 36 hours hacking up (with the help of an inhaler) some really thick, yellow phlegm (gross, I know. sorry.).
c.  While I didn't fall ONCE on the trail (woo hoo!), I did fall down in the shower after the race and gave myself a little whiplash. I'm convinced this was because I was being all cocky about not falling FOR THE FIRST TIME EVER IN A TRAIL RACE.
d.  I lost 3 toenails.
e.  I got super bloated, causing my stomach to rub against my shirt, leaving a nice rash. You know what that means, right? Time for a boob job to prevent this in the future, because it's pretty sad when your stomach is the thing that is protruding the farthest from the front of your body.
6.  I had "all you can eat" crab legs for my pre-race dinner.  Enough said.
7.  Final thoughts. Overall, for a training run, I'm happy that I was able to get in 78 miles (even the ugly ones), and not really feel beat up this morning (unlike after Born to Run 100k). I'm still trying to break down what went wrong, and for the moment, I'm guessing I got a little hyponaetremic. The fact that I got sick only after it cooled down, and that I was so bloated, leads me to believe that my paranoia about getting dehydrated in the hot temps led me to over drink. I sweat so much in the humidity of SoCal, that I don't think I accounted for the difference in conditions in the dry desert heat of Phoenix. I just kept drinking and drinking like I was at a New Year's Eve party.
Also, I think I've finally learned my lesson about using races for training runs. They simply cost too much money and time to not be in them 100% mentally. This is my second DNF, and both times I have felt SUPER guilty about the expense involved. So, I'm putting out my feelers now: Anyone interest in a 60 mile training run soon?
Happy Running!