The best laid plans blah blah…and all those famous quotes about being organized and getting things done…don't apply here. Because I waited too long to sign up for the Cordon Bleu cooking class, I couldn't get in. So, all my big talking on Friday about taking on new challenges seemed to be derailed from the moment I hit "Publish" on Friday's Fearless blog post. (It would have probably been smart if I had signed up for the class before I posted about it, huh?). Anyway, with no cooking class to look forward to, I decided I had to do the next best thing – sign up for the Malibu Marathon.
The Malibu Marathon runs through fields for the first half, and then heads down the Pacific Coast Highway for the second half. I did it a couple of years ago and swore I wouldn't do it again because, well… it's hard. And I don't like hard marathons. But, since I didn't have anything better to do, and I needed a "focused" training run, I decided it was better than nothing.
Maybe because I was anticipating misery, it didn't seem all that hard this year. Yes, it was still hilly as heck (who designs a course with the majority of the hills coming in the last 6 miles?!), and yes, you were running down a highway with cars, RVs, motorcycles and bikes zooming past you. But it was also stunningly beautiful. You are running 13 miles RIGHT ON THE PACIFIC OCEAN. How could I forget that part?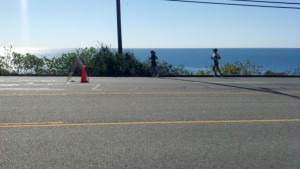 I'm the dark blob in the front. Not the best photo, but I wanted you to see the ocean – the star of this marathon.
I took it easy because I already had 120 miles on my legs before I decided to sign up, so maybe that also contributed to the pleasant feelings I had about the race. I paid no attention to pace or time, just ran easy and loose, with the only goals being to run a faster second half and not need any time off for recovery this week. All in all, things went well and I had a lot of fun. No puking, no screaming, no crying. Whew!
*                   *                    *                    *
I did manage to meet my other goal for the weekend – making a plum tart.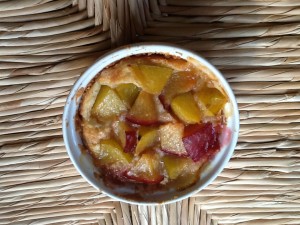 The crust was gross, so I will definitely have to keep working on it. Does anyone have a good crust recipe that can be followed successfully by a chimpanzee?
And because of my crust FAIL, I made some toffee to ease the pain.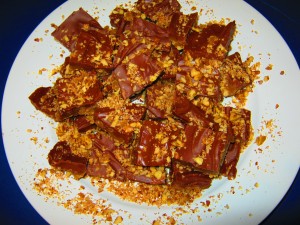 *                     *                       *                     *
I semi met my "biking" goal – I rode a bike, but not on the street. I ran out of time because of the two round trips I had to make out to Malibu (for packet pickup on Saturday and the race on Sunday), so I had to settle for riding the stationary bike in the gym. I know, don't say it. I wimped out on this one.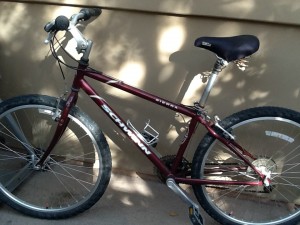 This is my bike pouting because it never gets used.
*                    *                     *                    *
And for the final goal, I did get in a trail run – nothing special, but it was gorgeous and I loved being out there.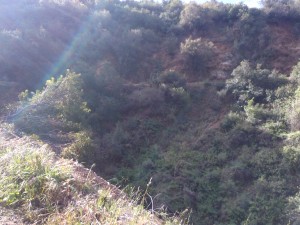 So what about y'all? Did you meet your weekend challenges?
Happy Running!