Yes, the time has arrived.  My twin sons, Grant and Spencer, are driving.  Aggghhhh!  How did we get here?  When did the Power Rangers, pre-dawn wake-ups, and me get replaced by phone apps, sleeping late and girls?  I look at them and I see this…
but the reality is actually this…
Oh.  Life.  So swift.
Anyway, after our adrenaline-laden driving lesson, it was time to get back to business. Remember I mentioned swimming and biking?  Well, they were a breeze after the hour of heart-stopping, dashboard pounding, almost-take-off-that-nice-man's-side mirror driving session – even in 103 degree Texas heat!
So, I hit the trail for an hour on the bike, and then dove into the pool for a swim – heaven! – giving me four hours of training for the day.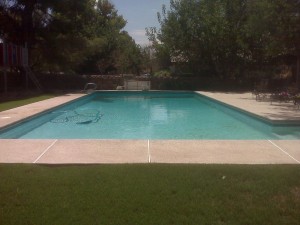 And at the end of it all, I needed some sustenance.  I knew I needed carbs and protein, so what better way to get it than…
Kitchen Sink Mac and Cheese!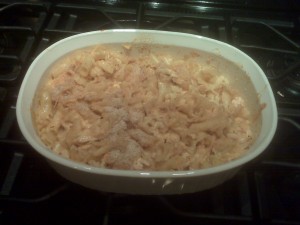 This is the perfect dish: soothing, a balanced carb/protein profile, and scrumdidliumptious!  But let me warn you, it is not for the faint of heart (or anyone who doesn't consider butter a major food group).  This dish is the meal that you need when you've had a hard day (driving lessons, root canal, ditch digging), and you want something easy but satisfying.  I call it Kitchen Sink Mac and Cheese because I usually make it on a whim, so I rarely have any ingredient that a "normal" recipe for mac and cheese would call for.  I use whatever cheese I have available, and whatever protein. Pasta is also a crap shoot – this time I had a choice between spaghetti and campanelle.  I went with campanelle because it is denser and holds the cheesy goodness better, but just use what you have.  I threw in rotisserie roasted chicken, but you can use hamburger, shrimp, ham – whatever you have.  With this much cheese and butter, it's all good!
First, put a pot of water on to boil, add salt to the water if desired.  Grate up your cheeses (here: cheddar, feta, american – Kraft slices are perfect to add creaminess, and usually readily available if you have kids).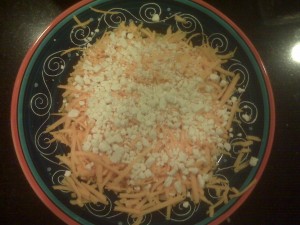 Put the pasta on to boil.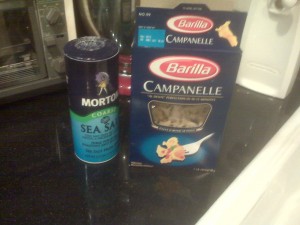 Next, shred the chicken (or brown the beef, cook the shrimp, cut the ham).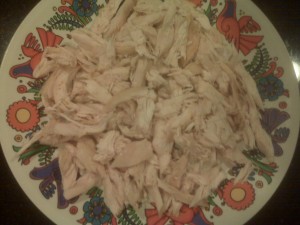 When your pasta is tender (about 10 minutes), drain it and set aside.  Put 3/4 stick of butter, cheese, pepper, and about 1 cup of milk in the pot.  Turn the heat on medium, and stir until you have a creamy cheese sauce.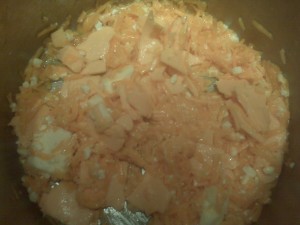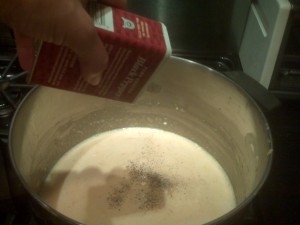 After you have a nice creamy sauce, mix the pasta back in and stir.  Add the chicken and mix well.  Put the whole shebang in an ungreased casserole.  Turn your oven on to 450 degrees. Sprinkle the top of the mac and cheese with plain bread crumbs and pop it into the oven for about 8 minutes – the crunchy topping is the best part!
I serve it with a mixed greens salad with some sort of sweet vinaigrette (grape balsamic, strawberry champagne, etc.) because it offsets the tanginess of the mac and cheese nicely.  And let's be honest, it's easy.  Bon Appetit!  or Dig In!
Happy Running!