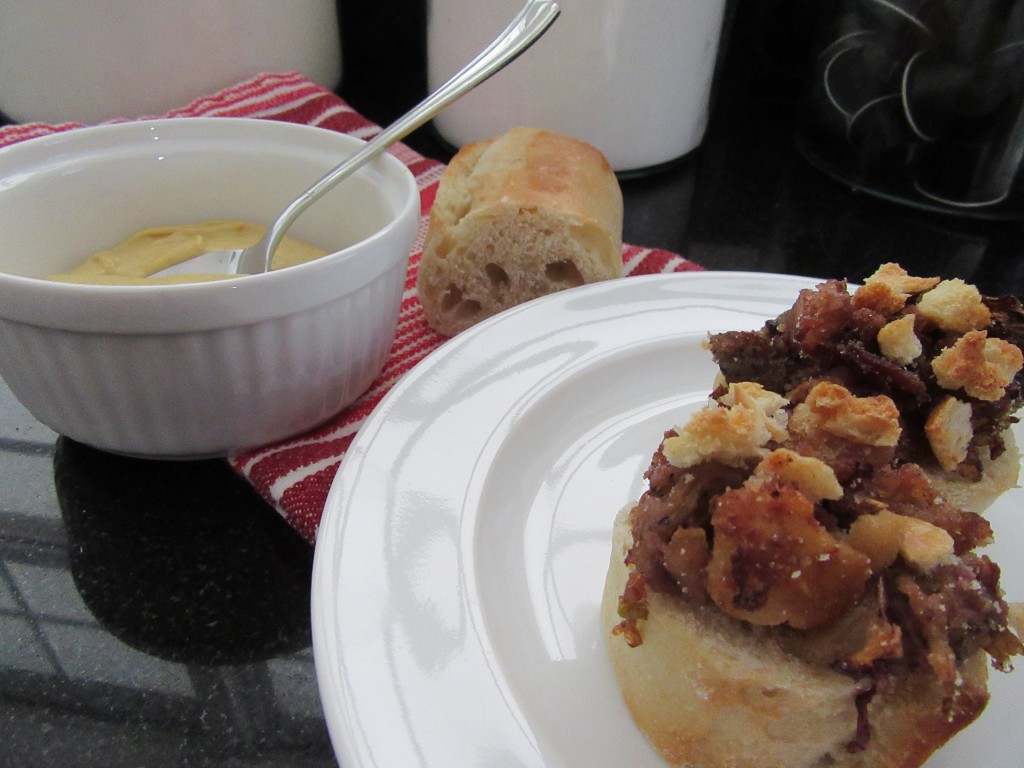 I don't even know what to say about this recipe. Deb made me do it? It's all Deb's fault?
Let me just start with: I'm not a fan of anything (okay, I do love butter and bread, but they don't count) in this recipe, so who's the dope for trying it in the first place? But we all know I lack good judgment, so why wouldn't I make something out of ingredients I don't really like just because someone I do like suggested it? And in my defense, she's never steered me wrong. Not one single time.
It all started with my regular perusal of Smitten Kitchen, Deb's blog, which I love. Her recipes always come out perfectly and we seem to have a similar taste profile – I like what she likes. There are some chef/food writers I love, love, love, but a lot of their recipes involve tons of fish sauce, offal (organ meats), or white chocolate, and I have to just walk away. We all have to draw a line in the sand somewhere. But Deb's recipes are always fantastic. Savory or sweet, she seems to hit the mark every time.
And then, she presented this. Cabbage and Sausage Casserole. Really, Deb?
I shut my browser and went to do something else important (eat a cupcake over the sink), but I couldn't stop thinking about that casserole. I felt like I was being challenged, called out for being a culinary wimp. I hadn't even tried it and I was already dismissing it as blech.
But I had a pound of sausage in my freezer left over from the Sausage and Egg Casserole I'm required to make every Christmas for my family that I wanted to get rid of somehow (the sausage, not the family). I also had a head and a half of cabbage hanging out in my crisper drawer with no future plans. I had the ingredients, but not the chutzpah.
I ate another cupcake.
I would like to tell you that my culinary bravery won out and I made this casserole because I'm a kitchen badass, but really, I was just too lazy to go to the store. This recipe calls for four ingredients that I already had. I was persuaded.
And thank God, I was. This. Is. So. Good. It is comfort food meets bazinga, you know what I mean? With so few ingredients (and totally boring ones, at that), I expected something ho hum. But this is not. It is savory and a little bit spicy. It's multidimensional, but easy. Did I mention that before? Easy! Like, I can make this in 10 minutes, stick it in the oven, and go do something really important, kind of easy. And yes, binge watching Homeland is important.
Deb's recipe calls for Savoy cabbage, but I just used regular green and purple cabbage and it worked great. Deb also instructed us to wilt the cabbage first in boiling water, but I was even too lazy to do that (two cupcakes make you a little sluggish). I just used a bigger pan and it wilted perfectly fine in the oven. The last modification I made (because we all know I can't follow a recipe even if my hair was going to be set on fire) was to let it cook for almost an hour without the foil covering it because I wanted a crisper texture on the top. Deb only tells you to leave the foil off for 30 minutes. Your call.
Lastly, because I was still un-trusting, I made a pot of rice to go with it. I couldn't see how slathering this casserole on a piece of bread with some Dijon mustard was really going to work, but of course, it totally did. The rice ended up being completely unnecessary, but we ate it all anyway because it worked well together and we love to eat some carbs with our carbs. I think rice can be a nice substitute for the bread, if you want to change it up once in awhile.
P.S. Tim enjoyed this so much, he wants to start a Wacky Wednesday where I make an "odd" dish for us to try every Wednesday night. Thanks, Deb. See what you started? Next week, I'm going to have to make White Chocolate Covered Kidneys in Fish Sauce.
Cabbage and Sausage Casserole
adapted from Smitten Kitchen (who adapted it from Jane Grigson)
4 Tablespoons unsalted butter, plus more for buttering the pan
1 and 1/2 heads of cabbage (Deb used Savoy) coarsely shredded
1 pound bulk sausage or links with casings removed
1 1/2 cups bread crumbs (optional)
salt
pepper
loaf of good bread (I used a baguette, but a heartier type would be excellent)
good quality coarse mustard for serving
Heat oven to 300 degrees. Butter a large (at least 9 x 13 x 2) baking dish.
Put down one layer of the shredded cabbage. Dot with butter. Cover with half the uncooked crumbled sausage. Sprinkle liberally with salt and pepper. Repeat another layer (cabbage, butter, crumbled sausage), ending with a layer of cabbage dotted with butter. Don't skimp on the salt and pepper in this recipe. You are using so few ingredients, you need to make sure you are generous with those you do use.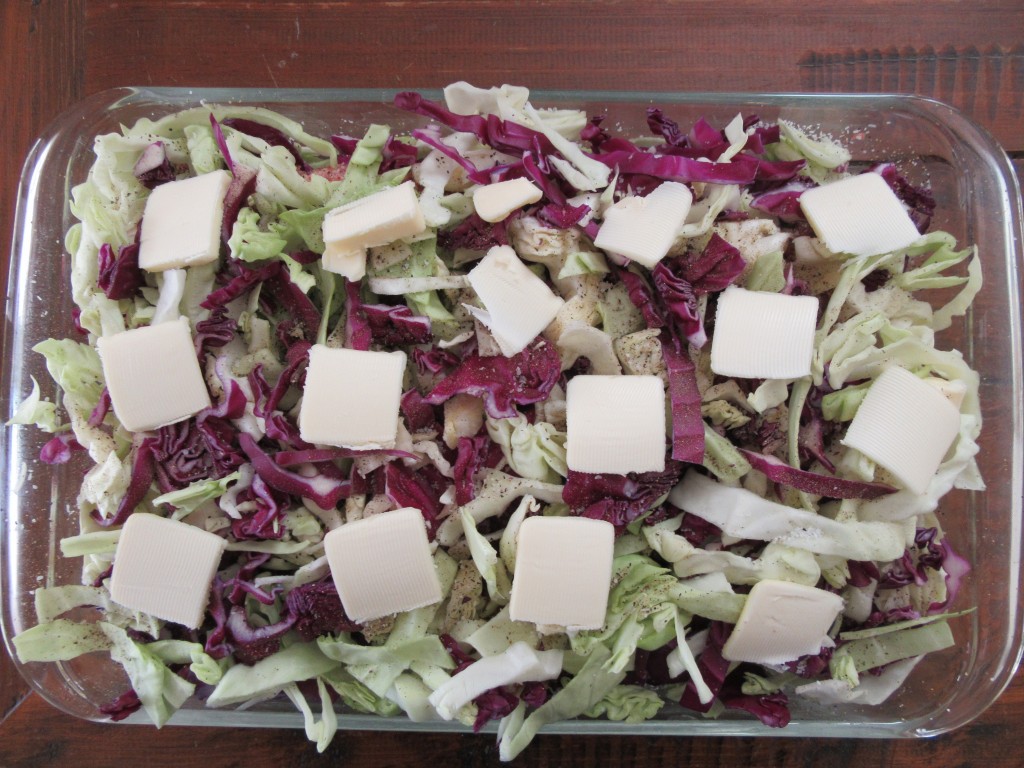 Cover with parchment paper (keeps the cabbage from turning gray) and then a layer of foil.
Cook for 2 hours and then remove parchment paper and foil.
Spread on the bread crumbs and return to the oven for 30 minutes to an hour, or until top is desired crispiness.
Serve on bread with mustard and/or rice.
{ 0 comments }