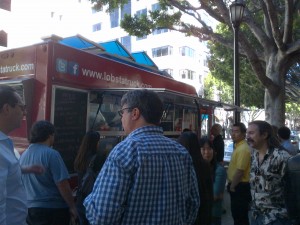 When I first started thinking about running ultras, I literally used to "run for food". I would head out on the road with a destination restaurant in mind, and then start running. The only two qualifiers were that it had to be less than 10 miles away (I had to be able to run home and 20 miles was about all I was willing to travel – still is) and I had to be able to eat there looking, and smelling, a little bedraggled. Yes, my options were somewhat limited.
Because I didn't want McDonald's to be my only choice, I learned to carry one of those lightweight nylon drawstring bags filled with my wallet, house key, baby wipes, a small brush and a light jacket that could be slipped over my sweaty self when I went into a restaurant. The jacket didn't solve all of the grooming issue, but after a quick trip to the Ladies' Room to wash my face and hands, and run a brush through my hair, I was borderline presentable. At least no one ever complained to my face or kicked me out of anywhere.
Years later, after many, many ultras, I still find it highly motivating to run for food. And Los Angeles has proven to be the ideal place to do it. Food trucks, small cafes and gourmet deli/markets are everywhere. And best of all, no one seems to care if you look, or smell, funky. Every week, I check the Food Trux Map to see where my favorite trucks are going to be stationed around the city and then I come up with a plan. I stick to my original guidelines – less than 10 miles away, no grooming niceties needed – and figure out what I can hit that week. I've had crab sandwiches, Korean fusion tacos, dumplings, Indian fry bread, fish tacos, tamales, and an Argentinian steak sandwich, just to name a few. Sometimes it feels like I'm running around the world!
And the same feeling has carried over to my travel for races. Wherever we go, I spend as much time researching where to go eat as I do the race venue/competition. Sometimes my husband says I actually spend MORE time worrying about the food than the race, but he never seems to complain when he gets the best roasted chicken of his life in Florence or the spectacular white asparagus in Bergen Op Zoom. You're welcome, Honey.
I think we all have different motivations for running, for putting in the long hours, getting up before the sun rises day after day, skipping the second glass of wine with friends because you know you have a long run the next morning, for training even when you'd rather be doing practically anything else. Something, often many things, keeps us going, keeps us striving, keeps us on the trails and roads. For me, it is the adventure, the seeing where I might end up if I just keep going, the potential for something special a few miles down the road. And when that something special happens to be a braised short rib grilled cheese sandwich with plum butter, well, then it is a perfect run.
Braised Short Rib Grilled Cheese with Plum Butter (adapted from The Grilled Cheese Truck)
16 beef short ribs
1/2 cup all purpose flour (for dredging)
salt and pepper to taste
4 Tbs olive oil
1 medium onion, diced
3 carrots, diced
3 ribs celery, diced
2 cloves garlic, minced
1 can chopped tomatoes
2 cups of red wine
2 cups beef broth
2 tsp thyme (or 2 sprigs fresh)
2 tsp rosemary (or 2 sprigs fresh)
parsley for garnish
Preheat oven to 350 degrees.
Salt and pepper each rib, then dredge in flour.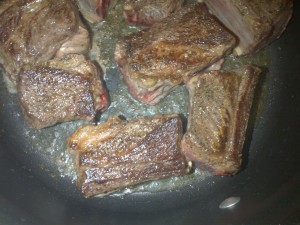 In a large dutch oven, heat the olive oil. Brown ribs on all sides, in batches – I usually do them in batches of 6, 6, 4, depending on the size of the ribs. Once browned, remove the ribs and set aside.
Add the onions, carrots and celery and stir, loosening up the yummy brown bits from the bottom of the pan. Cook for about 4 minutes.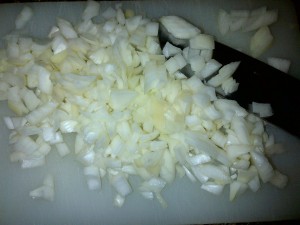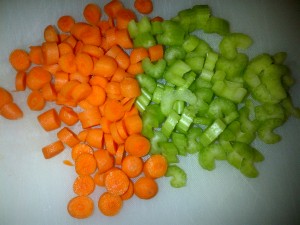 Add chopped garlic and saute for another minute. Add tomatoes and stir. Pour in  the red wine and scrape the pan some more. Bring it to a boil and let cook for 2 minutes.
Add the beef broth, 2 tsp. of salt, 1 Tbs. of pepper. Add the ribs back into the pan, making sure the liquid is about 3/4 of the way up the ribs.
Add the thyme and rosemary.
Cover with the lid and put in the oven.  Cook for 3 hours, turning ribs over at the halfway point. The ribs should be super tender and falling off the bone when done.
Serve over mash potatoes or polenta and save some for your grilled cheese the next day!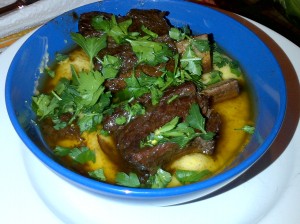 (Note: I'm not including a grilled cheese recipe because everyone has their favorite. I personally like a mix of cheeses – fontina, cheddar, brie – and lots of butter)
Plum Butter
3 ripe plums, cut into wedges
3 Tbs. sugar, more to taste
1 Tbs. lemon juice
Put ingredients into a sauce pan and heat on low until juices start to collect at the bottom of the pan. Stir frequently to make sure the sugar doesn't burn. Turn up heat to medium high and let boil about 4 minutes, stirring frequently.
Puree in a food processor or blender, taking great care with the very hot liquid – will burn you!
After pureed, return the mixture to the pan, and continue to cook it over medium heat until it is as thick as jam.
Slather on your grilled cheese just before you "grill" it – and, YUM! Seriously, sounds weird but it will knock your socks off.
Okay, now go run.
{ 2 comments }