Well, I guess it's time for a running post since this is a running blog, and all. Or sort of a running blog. Because I do run. Really. I know it might not seem like it. I know it probably appears that I spend all of my time eating a bunch of crap, reading recipes, cooking Asian/Mexican/Madagascarian fusion, killing things and trying to get my puppy on America's Next Top Model (she can work a camera like nobody's business but still has to be dragged down the sidewalk on her belly during her morning walk so her runway skills are a little wobbly), but I really do still spend a good chunk of my day running.
This training cycle I'm doing about half treadmill/half trail for the majority of my running, and then once a week, I'm doing a long road run.  There is really no rhyme or reason to this strategy. Okay, there is, but it isn't because it makes the most sense for my running. Ideally, I would not be running 50 of my weekly miles on a treadmill, but two things are dictating my schedule right now: my new puppy and terrible television. The new puppy thing is self-explanatory – I don't want to leave her alone for hours at a time when she is so little. When I'm on the treadmill, she just curls up in her bed and sleeps or chews on a bone while watching me sweat and flail around. She seems amused, and kind of judgy, but she's a puppy so what does she know.
The second reason for all the treadmill time is my addiction to terrible television. We've talked about this before, I know. I haven't sought help, but maybe it's time. I am a sucker for Dance Moms. And any sort of cooking/furniture, clothing, nail, scary mask design competition show. I don't care if it's an eight year old making a neon jumpsuit for a nun or an eighty year old flambeeing her eyebrows off while making Bananas Foster, I'm there. But since I have some sense of decorum, I do feel a wee bit guilty for watching this junk while sitting on the couch while eating junk, so I run while watching it. See how I did that?
Anyway, I'm getting my miles in one way or another. None of it's particularly pretty or inspiring, but the job is getting done. Kind of like a root canal. Or a weave. The getting there is off-putting, but as long as you end up accomplishing the goal – a full set of teeth/full head of hair/20 miles – who cares how you got there. In my book, miles are miles, even if you are being judged by a dog while running them.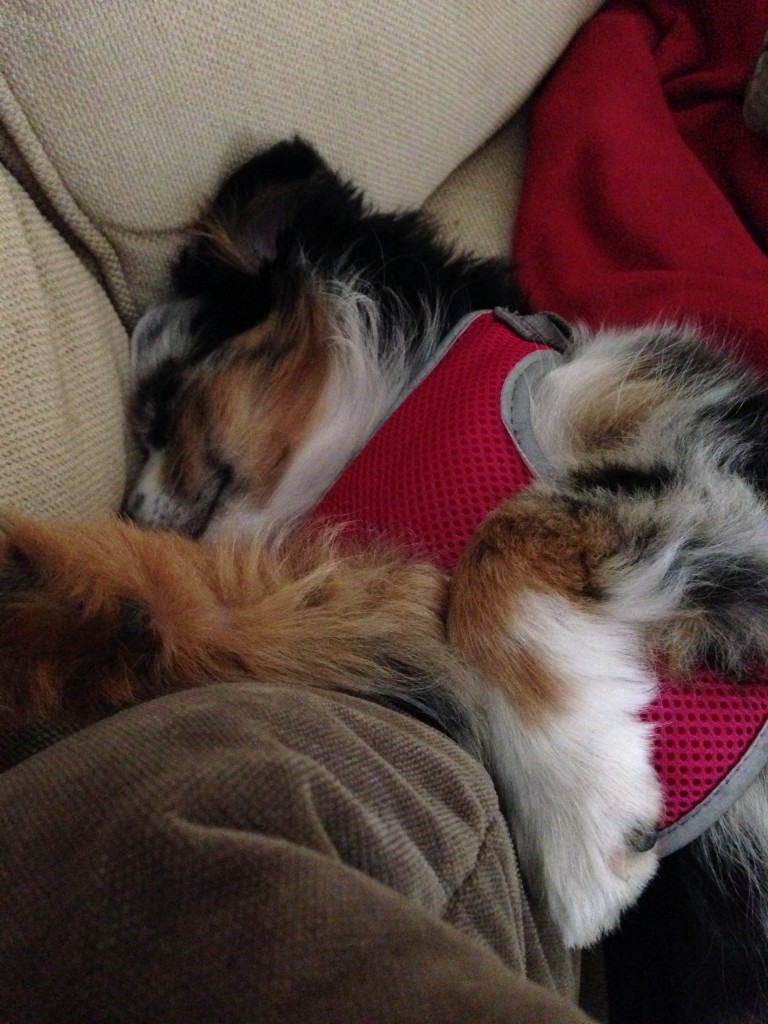 See how judgy she looks?
{ 3 comments }