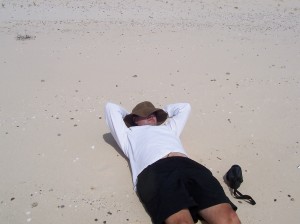 WAKE UPPPPPPPPP!!!!!
I wish I was asleep on the beach, but that is just a dream.  Instead, I am busy, busy, busy.  Crazy, crazy, crazy!
I'm sure, like for most of you, this time of year is CRAZY!  School is wrapping up, and that means tons and tons of events that go along with the ending of another academic year.  I feel like I hardly ever see my kids, and am often surprised that they recognize me when I show up to pick them up in the evening.  Between the meetings, ceremonies, parties, finals, papers, and general busy-ness that goes along with being (almost) 16, my kids are going at full speed right up to the point that they want dinner.
As for me, I feel like I'm in the same boat, or should I say, car.  I'm still driving them to and from school, and all the aforementioned events, while trying my best to train, coach, write, edit, clean, cook, and not do bodily harm to my upstairs neighbor who seems to have a full-time job of dragging heavy furniture across his hardwood floors.  All Day.  If you know what type of job he may have, please let me know so that I can take my furniture up to him so he can exercise it along with his.
This weekend, I am also going to do the Born to Run 100k outside of Santa Barbara.
With only 5 weeks (yikes!) to go until Western States, I decided I needed to do a more intense training run than I am willing to do on my own.  For me, signing up for a race is the only way to get my butt in gear and push the intensity in the final weeks of training.  100k may be a little long, but they don't offer a 50 mile option, so I will just try to keep it moderate.  Next weekend, I will head up to Auburn to do the 72 mile Western States Training Camp weekend, so I hope I haven't bitten off more than I can chew.  We'll see.
In other news, I am soooooooo excited to report that our Trail Runner Nation podcast on The Art of Pacing hit #4 Top Outdoor Podcasts on iTunes in only 4 days!  I'm doing my little Mousketeer jig over here, and if I only had my pink Mickey Mouse ears, I would take a photo for you.  Alas, I am stuck with a ski cap and a pair of grungy gray sweats, and I don't think those scream "I'M SO HAPPY!" – more like deranged housewife with very poor fashion sense.
But trust me, I'm ecstatic!
Finally, in training, I am capping this week's general running at 60 miles (with no swimming) since I know I will be pushing another 62 miles this weekend – ending up with over 120 for the week.  Even if I don't go all out, I fully expect to be kind of beat up, especially my feet.  I am, however, maintaining my full cupcake training regimen, so don't worry.  There is no way I would back off such an important part of my training.
What's happening in your life – tell me all! 🙂
Happy Running!