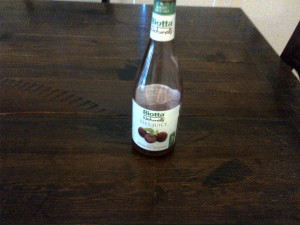 See, it's empty. I drank it all. Yes, it took me a week, but i did it!
Because y'all know I like to eat, (And eat. And eat.), I rarely take any type of supplements. I figure that, as many calories as I pack away, I should be getting most of what I need. (And no, the majority of my calories are NOT from cupcakes!)  Over the past few years, however, I kept coming across articles on the benefits of beet juice. Initially, I just skipped over anything I saw with the word "beet" in it, because let's be honest, beets have to be about the least sexy vegetable on the planet.  But those pesky roots became difficult to ignore when EVERY time I opened a magazine, or turned on the television, I saw something about them. I felt like those creepy, bulbous little guys were stalking me.
Never one to be intimidated by a root vegetable, I decided to figure out what all the fuss was about. I started reading anything I could get my hands on, and then finally bit the bullet and bought a bottle of the juice. I have to admit, I am a fan. While many of the studies say that beet juice can really make a difference for endurance athletes, at the very least, it seems that beet juice is a pretty darn healthy addition to you diet.
Most studies had participants consume 16 oz of juice per day.  That seems like a lot to me, but if you decide to add it to your day, do a little research and see how much you think is best for you. It's important to note that you CAN DRINK TOO MUCH. The little dudes are not without side effects. It's also important to note that it is best to mix the juice with other juices, not only to mask the taste, but to minimize those side effects.
Now, because I rarely do product reviews, I'm not going to follow the standard format of listing the benefits and then the drawbacks. I figure if you read the negatives of beet juice and still want to try it for yourself, then you will be interested in the benefits. If, however, the negatives gross you out, or make you think, "No way am I trying that dreck!" then you will save yourself the trouble of reading why beet juice is good for you.
Negatives of Beet Juice:
1. Go outside to your nearest flower bed, bend down, and take a big lick of dirt. That is what beet juice tastes like. If you can take that, you can take the taste of beet juice.
2. It's expensive. That 16 oz bottle I bought (above) was $6.99. If you're supposed to drink a whole bottle every day, you will definitely have to give up your Starbuck's run. And a cupcake. And maybe a gallon of gas.
3. It will make you….regular. Now, while this may be a good thing, be careful to build up to the full amount. You don't want to be out on a run and end up with the runs. This is powerful stuff.
4. It can turn your pee and poop red. Like, "Ack! Take me to the ER! I'm dying!" – kind of red. Hint: men, don't pee in a public urinal.
5. It can be hard on your kidneys and liver. Don't overdo this stuff. Just because it's a juice does not mean it doesn't have powerful mojo.
If you're still reading, and think you are tough enough to drink juice that tastes like dirt, here are some of the benefits.
Benefits of Beet Juice:
1. It lowers blood pressure. Enough said, unless you already have low blood pressure. If you do, beet juice is not for you.
2. It increases endurance athletes' oxygen uptake and efficiency. This is why so many elite athletes drink it. There are very few LEGAL things that increase oxygen uptake.
3. It wards of dementia (and possibly Alzheimers). I don't know about you, but if there is a way to keep me from going senile that doesn't involve playing Soduku or doing crossword puzzles, I'm all in.
4. It helps detoxify the body.
5. It makes you regular (see #3 above).
I will keep on drinking beet juice for now and report back on my progress. I'm adjusting to the taste (sort of), and experimenting mixing it with different juices to find the best match.  I'm thinking my best bet may just be a Beet Juice Cupcake!
Happy Running!