It's no secret to most of you that at the top of the list of reasons of "Why I Run" is For The Food. I felt like that phrase needed to be capitalized just so we are on the same page about it. Capitals seem to do that, don't you think? Anyway, this declaration also applies to why I race. Plain, and simple, I like to travel. Not the flying, museum-visiting, long-distance driving parts, but the "Have you ever tried Wisconsin Cheese Curds? (or Belgian Beer Stew?; or Korean Bulkogi?; or real Polish Sausage?) part. When you leave your home, and everything you are used to and comfortable with, you are expected to eat like you are on Death Row. That's part of your pact with the Universe, I think.
A few weeks ago, we flew to South Carolina for a race. On the drive from Charleston, where we landed, to the race venue in Florence, we decided that life would lose all meaning if we didn't eat some South Carolina barbecue. Maybe it was the feeling of being in Deep East Texas like where I went to undergraduate, with trees, and trees, and more trees, and where barbecue joints are more prolific than coffee shops, that prompted this compulsion. Or maybe it was just a hankering (a word that came to mind the minute we heard our first South Carolinian accent). Nostalgia is a great begetter of food cravings.
A quick perusal of UrbanSpoon told us a trip to McCabe's in Manning was in order – 4.5 stars and "down home cooking". Yee Haw! (Do they say that in South Carolina, or just Texas and Oklahoma? I get all my Southern colloquialisms all mixed up and geographically dislodged.) We got off the highway and meandered around Manning for awhile, managing to get lost in a town with five streets. Turns out, the restaurant was pretty close to where we exited the highway, but we had gotten distracted by the real-life orange-jumpsuited chain gang we saw picking up litter right in front of what turned out to be our desired destination. Most of the "criminals" appeared to be sullen teenage boys with lots of piercings, and a couple of women who looked like they should have known better. The only thing that told us this group wasn't some sort of selfless "Adopt-A-Highway" contingent were the three sheriff's deputies keeping a semi-menacing eye on the day-glo group. I don't know if this was for show, or not, but it would have sure kept me from running off into the woods Harrison Ford-Fugitive style.
When we finally made it into McCabe's, we were heartily greeted by a what appeared to be a family – Dad, Mom, Brother, Sister – standing behind a buffet full of Southern Wonders: hush puppies, fried chicken, macaroni and cheese, hash, collard greens, green beans, potato salad and coleslaw. There wasn't any traditional barbecue to be had, but I wasn't complaining. Los Angeles is not known for it's Southern fare. I needed a down home transfusion, I realized, and I needed it bad. And did I mention that it was "All You Can Eat!"? Halleluia!
After one plate of "sampling" food, I got down to business with my favorites: fried chicken, green beans and hush puppies. And then I stole a piece of Tim's fried chicken and the rest of his hush puppies. I left him to his green beans because I figured he needed his vegetables. I'm generous that way.
When we were full as ticks, we waddled our way back to the car and continued on to Florence, spending the last hour of the drive reminiscing about our early years of marriage when we lived in a tiny West Texas town, population 1003. When we married, I still had two years left of law school, but Tim had graduated and already had a job waiting for him three hours away. We decided to move to the speck of town halfway between and drive back and forth. Every morning, I'd turn north and he, south, heading for the places we needed to go to get stuff done. But each night, we'd come back to that middle place, our tiny, asbestos shingled house right next to the big cotton field, grateful we'd survived another tornado scare or a flock of wild turkeys. Truly. It was a harrowing drive each day.
But despite the white-knuckle drives, each night we mooned over each other, and whatever was being served at one of the five Mom and Pop diners in the tiny town. Young, culinarily clueless, and blinded by love and stout constitutions, we happily gobbled up all the comfort food offered to us – yes, fried chicken, hush puppies, macaroni and cheese, green beans and collard greens. Funny how the food of our honeymoon years still entices us enough to leave the highway, brave a chain gang, and risk the admonition of our mid-life cardiologists.
Maple Cashew Cauliflower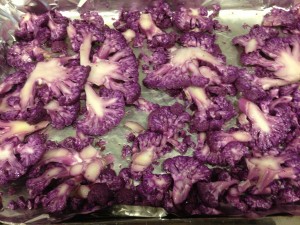 Okay, this isn't really a Southern dish, but I consider any vegetable that is sweetened to count – we love to sweeten things up. Almost every night of the week (yes, I know it's weird and probably not so great for us), I roast some sort of veg to bridge the gap between when my kids get home and when I have dinner on the table. I suck at timing things perfectly, and they suck at letting me know when they will be home. We're even.
To switch things up a bit, I'm always adding things to the vegetables. This combination was one of the more successful ones.
1 head cauliflower
a big glug of olive oil
Kosher salt
a small glug of pure maple syrup
3/4 cup of salted cashews
Preheat the oven to 400 degrees. Slice/chop the cauliflower. Toss with olive oil and sprinkle with salt. Roast for 25 minutes, re-tossing at least once. Remove from oven and pour on the maple syrup, mixing well. Return to oven and roast for another 5 minutes. Remove and add the cashews.
Yee haw!